A Question of Sport

Host
Stuart Hall (1968: Pilot)
David Vine (1970-78, 1989)
David Coleman (1979-1997)
Bill Beaumont (2 programmes, 1996)
Sue Barker (2 programmes in 1996, then 1997-2021)
Paddy McGuinness (2021-)
Stephen Fry (Sport Relief specials 2002-6)
Jimmy Carr (Sport Relief special 2008)
Jason Manford (A Question of Sport: Super Saturday)
Mark Chapman or Steve Crossman (A Question of Sport - The Podcast)
Co-hosts
Regular team captains:
Cliff Morgan (1970-75)
Henry Cooper (1970-79)
Freddie Trueman (1976-77)
Brendan Foster (1977-79)
Emlyn Hughes (1979-81, 84-88)
Gareth Edwards (1979-81)
Willie Carson (1982-83)
Bill Beaumont (1982-96)
Ian Botham (1989-96)
John Parrott (1996-2002)
Ally McCoist (1996-2007)
Frankie Dettori (2002-04)
Matt Dawson (2004-21)
Phil Tufnell (2008-21)
Ugo Monye (2021-)
Sam Quek (2021-)
There have also been several stand-in captains over the years. They have included: Bobby Moore; Bobby Charlton; John Barnes; Roger Black; Jonathan Davies; Will Carling; Sam Torrance; Matthew Pinsent; David Ginola; David Seaman; Michael Owen; Shane Warne; Jamie Redknapp; Ricky Hatton; Dennis Taylor and Gary Speed. Ally McCoist, John Parrott and Phil Tufnell were all also stand-in captains before becoming regulars.
Broadcast
BBC1 North West (regional), 2 December 1968 (Pilot)
BBC North West for BBC1, 5 January 1970 to present (2021 to present as Question of Sport)
as A Question of Sport: Super Saturday BBC One, 21 June to 19 July 2014 (5 episodes in 1 series)
as A Question of Sport Relief BBC Two, 23 March 2018
as A Question of Sport - The Podcast BBC Radio 5 Live, 4 April 2020 to present
Synopsis
The eternal question: What Happens Next? This show has been going for years and years and years. And maybe longer than that. Past captains (well, Bill Beaumont anyway - and of course David Coleman) have hosted the show and it has been regular prime-time viewing. And yes, it's about sport. Each team is made up of three people, two famous sporting guests and a captain who is usually more portly.
The traditional show invariably began with the Picture Round. 12 boxes each hide a picture of a famous sportsperson in an interesting pose (usually, Media Studies fans, a long shot but always an action shot). Each person would score two points if they got it correct, but if they don't know it's passed over to the opposition for a bonus. Every member of both teams gets a go. Generally there is two pictures for every sport represented by the team members that week.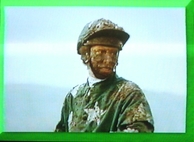 A typical picture from the board. This, believe it or not, is Princess Anne - although Emlyn Hughes failed to recognise her (see 'Key Moments', below).
Then comes the Specialised Subject round. Each person would get a collage of clips based on their sport, and they would be asked to name two specific people in it. The captains, however, would get a completely random selection of sports, being the captains and everything.
Then comes the Home and Away round, a round devoted to everybody's third-favourite Australian soap. Ha, not really! Actually each guest in turn chooses to answer either a question on their own sport ("home") for one point or a general question ("away") for two. The team captains usually don't get the choice and have to take an "away" question.
Mystery Personality next, and a short piece of film of a famous personality filmed from odd positions and situations. They are carefully filmed so as never to completely give away who they are (or not, as was the case when they decided to show a full facial shot of Katharine Merry). Two points for a correct answer and one point if they don't know and the opposition gets it.
Then, it's What Happens Next? A piece of film starts and at an inopportune moment it stops and the contestants need to guess... well, you get the idea. Usually with some outrageous (i.e.wrong) guesses, you can be sure that hilarity will ensue when it turns out that a little cat runs onto the pitch or somesuch. Every week.
The One Minute Round, nine questions, nine points and sixty seconds. A nice mixture of trivia, picture questions and the famous "These three people all have surnames connected with snowball fighting" question. Completely random, completely pointless but good fun nonetheless.
Finally, the Picture Round reprise, the six remaining pictures are taken one at a time a la Round One and the same points apply and at the end of the round, whoever wins, wins and whoever loses loses, predictably enough.
For no particularly good reason except to annoy us, the 1998 season reordered the rounds, and dropped the One Minute Round in favour of an On the Buzzer end game that Ally McCoist tended to dominate (John Parrott was once so miffed by McCoist's constant luck in that round that he (Parrott) went to sit in the audience in protest). Not a particularly inspired decision, but not a disaster either.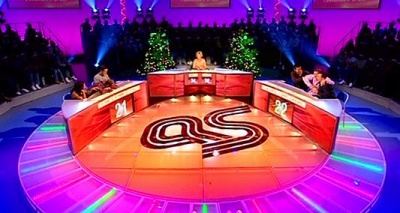 The lighting technicians celebrate the festive season in their own inimitable fashion
If you like sport, you'll probably like this and if you don't you probably won't. It's certainly pleasant enough, and in latter years (with the ever-popular They Think it's All Over breathing down its neck) the emphasis on the banter between players has been increased. Also, Sue Barker has introduced a certain glamour and middle-class street-cred that doddery David Coleman never really had. It should be said, however, that Coleman was an excellent host, always managing to keep a very good balance between the quiz itself and the general joviality of the show, especially with his own infectious enthusiasm (and his many colourful jumpers!) and many would have been sorry to see him go when he finally left the programme. In addition, later series have proved, and some themed specials (either tied to topical sporting events such as Euro 2000, or featuring TV commentators, referees, sport-loving comedians, that kind of thing) have buffed up the ingenuity somewhat.
By the following decade, A Question of Sport was going out at a family viewing time (7.30 on Friday, or Saturday teatime), and after the watershed during the week. The show played up physical comedy, team captains might answer questions while bouncing on a trampoline, or perform charades while running on a treadmill. Comedians and other non-sport entertainers occasionally appeared on the main show, and were given a full series in summer 2014. The Super Saturday shows were hosted by comedian Jason Manford, with the show's regular captains Matt Dawson and Phil Tufnell. Most of the challenges had something to do with sport, but "learning to do handbrake turns" is a long way removed from the sedate picture board.
You will have seen most of this before but, given the age of the show, it's not inconceivable that it invented most of it...
Key moments
Princess Anne joined the quiz for its 200th edition. The soon-to-be Princess Royal was qualified to know a bit about sport, being a former Olympic equestrian and BBC Sports Personality of the Year herself. Over 19 million people saw it, naturally enough the show's highest ever audience. However, the ratings didn't last as Channel 4 launched a new series of Treasure Hunt the following week. The Princess Anne show came only 2 weeks after Emlyn Hughes had mistaken her for the jockey John Reid in a picture round (see under 'Synopsis', above). On the special edition, Hughes was desperately (but ultimately successfully) trying to restrain himself from patting Princess Anne on the back, something he normally did to all his guests with his usual boundless (not to say mindless) enthusiasm. Despite this, the Princess did threaten him with a severe handbagging at one point. As regards Hughes's failure to recognise the Princess, however, the latter stated in a programme screened as a tribute to David Coleman shortly after his death that she wouldn't have blamed anyone for failing to recognise her, given how mud-spattered she was in the picture. She even said that she wouldn't have recognised herself if she hadn't known the colours of the silks she was wearing.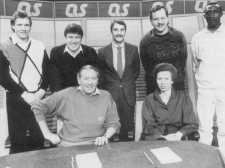 Front row: David Coleman (host) with Anne, the Princess Royal. Back row: John Rutherford, Emlyn Hughes, Nigel Mansell, Bill Beaumont, Linford Christie.
Another special edition of the show (albeit a shortened version) was featured in "Jim'll Fix It", probably also in 1987: the captains in question were once again Beaumont and Hughes. Four sports-mad boys, apparently names pulled out of a hat, due to the sheer volume of kids who wrote in asking to appear on 'A Question of Sport', had the honour of occupying the hallowed guest-seats and the 'mini' show consisted of the complete Picture Board Round, with the One-Minute Round in between the two 'halves' of the former round. All four lads proved excellent, both in terms of sports knowledge and entertainment value, but none more so than one young man, who was on Hughes's team and sounded (possibly deliberately) like him, even asking for, "Number two, please, Dave", in exactly Hughes's squeaky tones. Naturally, the latter giggled even more than usual throughout the whole game - as did the rest of us.
David Coleman often called Willie Carson and Bill Beaumont 'Wee Willie' and 'Big Bill' respectively - and very accurately, too! Apparently, the two captains once entered the studio at the start of a recording with Beaumont carrying Carson on his back.
On one show Ian Woosnam correctly identified the mystery guest (who was posing as an angler in an all-covering plastic mac) as fellow-golfer Greg Norman - because by a lucky chance he actually happened to have witnessed the film being shot in the grounds of the Gleneagles hotel! On another occasion, Bill Beaumont found it easy to recognise Doddie Weir (driving a bulldozer) in a 1996 Mystery Guest round, because Weir had been on the show only two weeks earlier, one of the shows that Beaumont hosted - surely that made it a bit too easy? On another occasion, Weir appeared in that round dressed as a Spice Girl - he was obviously game for a laugh.
Probably the most dramatic Mystery Guest appearance was the one in which Jonathan Davies was bungee-jumping. Another memorable one was Norman Whiteside playing a would-be army recruit, who was taking a load of flak from the sergeant for being late and unshaven on parade - among other things. In addition, the motor racing driver Derek Bell appeared as a mystery guest, driving a bus somewhat erratically - obviously not a true representation of his driving-skills.
Several of the captains - and Sue Barker too - have appeared memorably in the Mystery Guest round. Barker once appeared dressed in an animal costume at a charity event and was mistaken for Ray Clements by one team and Alan Minter by the other! Bill Beaumont appeared in a kilt playing the bagpipes on another occasion and was mistaken for Geoff Capes. In addition, Gareth Edwards once appeared in a workshop, doing engineering work and Emlyn Hughes showed up in an optician's, having his eyes tested. Ally McCoist once failed to recognise himself in a mystery guest round in which the footage consisted of a montage of 4 previous Mystery Guests.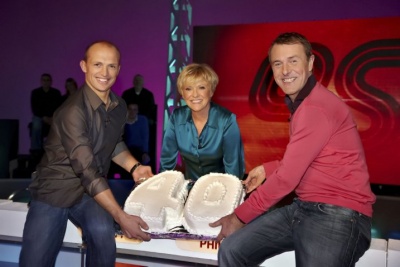 Matt Dawson, Sue Barker and Phil Tufnell mark the show's 40th anniversary with a cake or two
Several special editions had former captains return as guests. On one such programme, Ian Botham had Emlyn Hughes and Gareth Edwards on his team, while Bill Beaumont had Willie Carson and Brendan Foster. At one point, when Hughes got something wrong, Botham observed scathingly, "No wonder you're on Sporting Triangles!" Harsh, maybe, but Botham had a point, since 'Sporting Triangles' was certainly not a patch on 'A Question of Sport'.
Another future Sporting Triangles captain who made an impact for the wrong reasons on 'A Question Of Sport' was Tessa Sanderson when she was once a guest on Gareth Edwards's team. During the opposing (ie Emlyn Hughes's) team's one-minute round, Sanderson, in her excitement, accidentally answered a question correctly for the latter team, no doubt much to Hughes's delight and Edwards's indignation.
Frankie Dettori once failed to deduce which sportsman's name is an anagram of "Trinket Ride Oaf".
One of the best wrong answers ever was given by Andy Gray several years ago. The question was "It was first achieved in 1982, and the fastest time of 5 minutes 20 seconds was achieved in 1997. To what I am referring?". The correct answer is "147 break in snooker", but Andy Gray's clever (but sadly wrong) answer was "how long it takes all of the runners in the London Marathon to cross the start line"!
Just before an edition of the show in the early 1990's, the BBC announcer amusingly stated, "BBC now stands for Botham, Beaumont, Coleman, as it's time for 'A Question of Sport!'" Very much a 'why didn't I think of that before?' moment.
Catchphrases
"What happened next?"
"Home or away?"
In the David Coleman era:
"Hello, and welcome to 'A Question of Sport', in which (whichever captain, usually Bill Beaumont) is leading by eight programmes to five"
"...And...you....are...right!"
"Won't do!"
"Goes to the other side"
"Well, let's have a look if you're right"
"Hope you enjoyed the programme - we'll be back next week, same time, same place, 8.30, BBC1 - see you then."
(Emlyn Hughes, in his trademark squeaky voice): "Number two please, Dave!"
"We think, Dave...!"
"Oh, well done, mate!" followed by the obligatory pat on the back for the guest concerned.
Inventor
Nick Hunter, also the first producer.
Theme music
There has been at least three pieces of music, to our reckoning. The very first which no one remembers is called Tio Pepe. Then there was the bouncy "A Question of Sport, bom bom bom bom". Now it's a fairly anonymous piece of keyboard janging music which has got remixed several times, including samba of all things. The latterday theme is by Richie Close. The current mix is by Andrew Harris.
Trivia
The captains on the very first show were Henry Cooper and Cliff Morgan and the guests were Lillian Board, Tom Finney, George Best and Ray Illingworth. The host was David Vine. Rather sad to note that Board died from cancer less than a year after that show, at the shockingly young age of 22.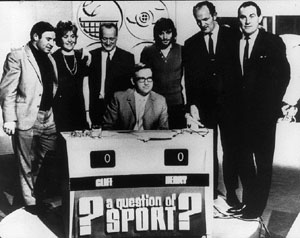 Captains, guests and questionmaster on set for the first edition in 1970.
Vine, Cooper and Morgan revealed on 'A Question of Sport - The Golden Years', mentioned below, that in those very early days of the show, they were informed by the producer that they were 'guests in people's living rooms' and must therefore dress the part, ie suits and ties. This was certainly the case in most of the early shows, although some of the surviving editions do show the captains wearing open-necked shirts, so maybe the restrictions were not always enforced. However, one thing they were allowed to do at that time was to smoke, which of course would be completely out of the question today. When David Coleman took over the show in 1979, his brief was apparently to 'loosen and lighten the show up', which of course he did in his inimitable style - and the dress-code certainly became more relaxed during his tenure, albeit with suits and ties still being worn up until the mid-80's, but by no means all the time. Once again, it shows that things have changed considerably - formal attire is virtually unheard of in the programme's current incarnation.
Surprisingly, Bill Beaumont hosted the programme in David Coleman's absence for 2 editions in 1996, and Will Carling stood in as team captain. The show was as enjoyable as ever, but, on the whole, Bill was better as a captain - his voice wasn't quite right for the hosting role. Sue Barker had also hosted the programme in Coleman's absence around Christmas 1996, which was almost certainly the main reason why she succeeded him from the next series onwards. In addition, Coleman had had quite a long period of absence around early 1989, and, during this time, David Vine returned to host the programme.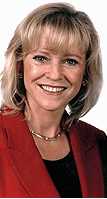 Sue Barker
Alongside a BBC video release in 1999, 30 Years of A Question of Sport, a one-hour documentary to celebrate its 35th anniversary was made - A Question of Sport - The Golden Years. It was dedicated to Emlyn Hughes, aka 'Crazy Horse', who died in 2004.
Originally, the programme was recorded in an old Methodist church in Dickinson Road, Manchester - then the BBC's North West studios. Production was moved to New Broadcasting House in Oxford Road in 1975. Since Studio A at Oxford Road was mothballed, production was shared between BBC Television Centre, London and Granada's 3SixtyMedia facilities at Quay Street, Manchester. It moved to the Media City facilities at Salford around 2011.
Certain other websites (you know the ones we mean...) have suggested that there was a full series in the North West in 1969, but our own original research has yet to turn up any evidence for this. As far as we can tell, there was just a pilot at the end of 1968 and then no more until the national series at the start of 1970.
Special editions, titled A Question of Sport Relief, have been a regular feature of the biennial Sport Relief telethons since 2002. Stephen Fry presented the first three but had to pull out of the 2008 edition after breaking his arm on a filming trip in Brazil, and was replaced by Jimmy Carr.
Speaking of charity telethons, BBC Scotland staged their own A Question of Scotland for Children in Need 2008, with Jackie Bird hosting and various Scottish "celebs" making up the teams. It was a bit of a damp squib as it turned out that none of the panellists knew much about sport, or indeed about Scotland.
To mark the programme's 40th anniversary in 2010, the show embarked on a UK tour, taking in theatres and arenas in 15 towns and cities. Following its success, a second UK tour took place in 2011, stopping off in 17 towns and cities.
With Radio 5 bereft of any live sport in 2020 as a consequence of the Covid-19 pandemic, A Question of Sport stepped into the gap. Mark Chapman hosted, regular captains Matt Dawson and Phil Tufnell were joined by two guests playing from their homes.
Spin-off series "The Question of Sport" aired on Radio 5 during 2022. It was hosted by Sam Quek, and told remarkable stories of sporting history with researchers from A Question of Sport. It's a fact-based entertainment, not a quiz or competition.
The 2021 relaunch dispensed with the A in favour of the marginally-shorter title Question of Sport. Will it stick? Come back to us in another 51 years...
TV Brain tells us that 97 episodes from the first 25 series have been wiped from the archives. These are the episodes that survived:
Series 4: Episodes 2 & 11-12
Series 5: Episodes 1-2 & 8
Series 7: Episode 8
Series 8: Episodes 1-5, 7-11 & 13
Series 9: Episodes 1-2, 4-7 & 9-11
Series 10: All 12 episodes
Series 11: All 13 episodes
Series 12: Episodes 1, 4-6 & 8-11
Series 13: Episodes 1-8, 10-11 & 13-14
Series 14: Episodes 1-5, 7, 9-12 & 14-15
Series 15: All 20 episodes
Series 16: All 21 episodes
Series 17: Episodes 1-16 & 18-21
Series 18: All 24 episodes
Series 19-21 & 24: All 26 episodes
Series 22: Episodes 1-7, 9, 12-22 & 24-25
Series 23: Episodes 1-2, 4-5 & 7-28
Series 25: Episodes 1-18 & 20-27
Merchandise
30 Years Of A Question Of Sport (VHS)
by Michael Adley
Several Question of Sport board games are also available.
Web links
Very good official site, with games and features about the show.
The show's social media moved from @QofS_Official to @QuestionofSport.
Pictures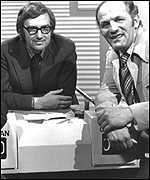 David Vine with his punch up of a team captain, Henry Cooper.
See also
Weaver's Week review of a 1987 episode
Feedback