A Question of TV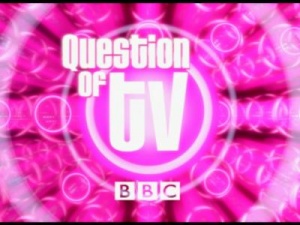 Host
Co-hosts
Team captains: Rowland Rivron and Lorraine Kelly
Broadcast
BBC North West for BBC One, 5 July to 29 August 2001 (8 episodes in 1 series)
Synopsis
One of the annoying things about the BBC is that when they have an original hit, they do have a tendency to flog it for all its life instead of looking for the next original hit. The Your Kids are in Charge debacle is a good example of this. Therefore, we turn with some trepidation to the third full instalment of the "A Question Of..." brand.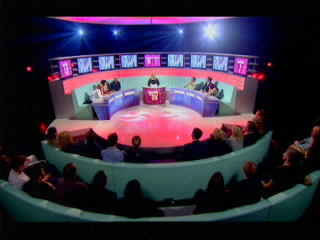 The smallest set you'll ever see.
As far as the format goes, things pretty much follow the usual pattern except that the picture board only has 6 pictures rather than the 12 laid down by British Standard QoS1967.
Gaby Roslin as choice of host was logical, particularly as she previously presented the one-off A Question of EastEnders, but the chemistry between her (nice though she is) and the celebs (dim though they are) just isn't working.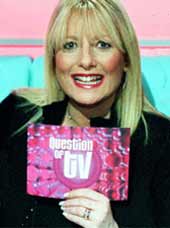 Gaby Roslin's question card pose.
Whoever books the celebs on this show needs to be shot at dawn. Why on earth book a vet formerly from Sweden onto a show and ask them about Pinky and Perky? The questions show some signs of good research, but since they are conducted in a semi-farcical manner (rather than sportspeople who are genuinely competitive about winning the game) that the whole thing all seems rather wishy-washy.
Enough is enough. This is the classic case of diminishing returns, we're afraid. The graphics get flashier while the content gets dumber. Think Jurassic Park 3 and you're almost there.
Web links
Opening titles from the BBC Motion Graphics Archive
See also
Feedback