Alison Holloway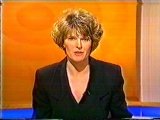 Biography
Beginning her TV career at the age of 17 as a newsreader and announcer for Westward Television, Alison moved on to become a regular presenter on HTV throughout the 1980s. Following a spell at Meridian, she moved to Los Angeles, USA in 1994, where she still works as a TV host, producer and director.
Trivia
Was once married to Jim Davidson.
She appeared in two special editions of The Krypton Factor during the 1988 Seoul Olympics, 'Presenters versus Competitors', along with fellow-sports and quiz hosts, Nick Owen, Dickie Davies and Elton Welsby. The presenters won!
Web links
To be completed
Feedback