Britain's Best Junior Doctors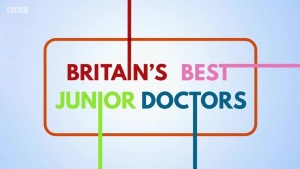 Host
Co-hosts
Dr. Helen Lawal (medical expert)
Broadcast
Shiver (part of ITV Studios) for BBC Two, 25 to 29 June 2018 (5 episodes in 1 series)
Synopsis
A quiz for teams training at various hospitals.
Rounds included "The Waiting Room", buzzer questions about symptoms. "The Doctor's Surgery" got teams to ask questions of a patient and diagnose what's wrong with them. Specialist round "Which Ward" was followed by "The Operating Theatre", where players drew on a model's body. The quickfire buzzer round was called "Rapid Response".
Medical facts were explained by Helen Lawal, a properly qualified medical doctor. Jo Brand hosted the programme with her usual wry style. Four heats, and the two top-scoring winners came back for the grand final.
Champions
University Hospitals Leicester
Inventor
Based on an idea by Philip White.
Trivia
Shown during a season of programmes marking the 70th anniversary of the National Health Service. At 7:30 pm. When people are likely to be eating their tea. D'oh!
The BBC claimed this was the first medical quiz ever, and they were half right - it was certainly their first medical quiz ever. Tibs and Fibs had gone out on Channel 5 some twenty years earlier. But no-one watched that.
Filmed at The Hospital Club, a small studio in central London.
Web links
See also
Feedback