David Attenborough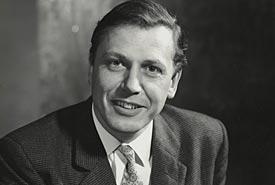 Biography
A legend in broadcasting, though (admittedly) not in the game show genre particularly.
Born in 1926, Attenborough had an early interest in fossils, and went on to study Natural Sciences at Cambridge. After national service and a brief spell in publishing, in 1950 he applied for a job with BBC radio. He was turned down, but his CV was passed on to the television department, where he became a junior producer on various shows. In 1954 he became an overnight star with his first wildlife series, Zoo Quest, and he's been a regular and highly-respected presenter of wildlife programmes ever since.
He was also controller of BBC2 for the latter half of the 1960s, and BBC TV Director of Programmes (effectively, the overall head of BBC television) from 1969 to 1972. However, he ultimately gave that up, despite his success in the role, because he much preferred to be out in the wild, researching and presenting his brilliant wildlife series.
Trivia
If polls are to be believed (and of course we always believe polls), Attenborough is the most trusted man in Britain. He came out top in a Reader's Digest survey in 2006, with newsreader Trevor McDonald second and, er, Rolf Harris third. How times have changed... but Attenborough is a constant. In 2018, a similar poll commissioned by a credit brokerage firm once again named him the celebrity Britons most trust, ahead of Tom Hanks and Michelle Obama.
He is the younger brother of actor/director Lord Richard Attenborough and David himself is in fact Sir David Attenborough.
He is one of only two people to have been a guest on Desert Island Discs four times. The other was comedian Arthur Askey.
His best and most famous wildlife series are: "Life On Earth", "The Living Planet", "The Trials Of Life", "Life In The Freezer", "The Life of Birds", "The Life Of Mammals", "The Private Life Of Plants", "Life In The Undergrowth" and "The Life Of Reptiles", as well as a huge number of excellent "Wildlife On One" programmes. His autobiography, appropriately enough, is entitled "Life On Air".
He also co-presented (along with Julian Pettifer) the 1986 one-off programme "World Safari", which provided live satellite-links to wildlife from all corners of the world - including China, where Sir David interviewed Prince Philip, who was visiting a panda sanctuary. Despite some technical difficulties, it proved a fascinating evening of wildlife - and quite a revelation, given the less advanced satellite technology of the time.
Both universities in his home town of Leicester (Leicester and De Montfort) have named buildings after him. (Though, a potential point of confusion: Leicester Uni's Attenborough Tower, famed for its paternoster lift, is actually named after his father, who was Chancellor of the university when David was born.)
Speaking of universities, over the years he's received at least 30 honorary degrees from (deep breath now...) University of London, Leicester, Birmingham, Liverpool, Heriot-Watt, Sussex, Bath, Ulster, City University (London), Durham, Keele, Oxford, Plymouth, Bradford, Nottingham, West of England, University of Iceland, Guelph (Canada), UEA, Uppsala (Sweden), Bristol, Glasgow, Open University, Essex, Antwerp (Belgium), Cambridge, Edinburgh, Aberdeen, Kingston (London) and Exeter.
He's had a plant named after him - Nepenthes attenboroughii is a giant carnivorous plant found on Mount Victoria, Palawan, in the Philippines.
In 2005, he performed the official opening of Attenborough Nature Centre in Nottingham. However, though it would have been a most appropriate tribute, the centre isn't actually named after him - Attenborough is in fact the suburb of Nottingham where it's located.
His most celebrated and best-remembered moment is surely the clip from "Life On Earth" in which he got up close and personal with a group of gorillas - quite a revelation at the time.
He revealed in several interviews (and also on "Wildlife On One") that the only animal he really dislikes is the rat: this is due to an unfortunate experience that he had with one while he was unwell in India.
For all his immense wildlife experience, not everything has gone to plan for Sir David while filming his series. In one much-repeated BBC outtake, he was attacked by a rogue capercaillie (a large grouse found in Scotland) and in another, he was describing today's volcanic eruptions as 'mere feeble flickers' while completely obscured by smoke!
Web links
Feedback