David Vine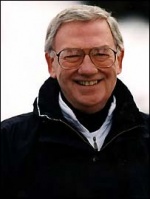 Biography
A legend in TV sports presentation, Vine did Grandstand, Match of The Day, Ski Sunday, Snooker and much else besides, including (of course) Superstars. A walking encyclopedia of sports knowledge and a consummate professional, he retired without much fanfare in 2000.
Vine died on 11 January 2009, aged 73.
Trivia
Before joining the BBC, Vine was Westward Television's head of sport and found himself in front of the cameras when the regular presenter of Sports Desk failed to turn up. He ended up taking the presenting role permanently.
As well as being the original host of "A Question of Sport", Vine came back to host it again temporarily in 1989, since David Coleman was off sick.
Web links
Feedback