Fiona Bruce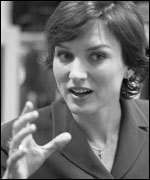 Biography
BBC newsreader who is a regular presenter on both the Six and Ten O'Clock News. She's also presented various other shows, both in current affairs (Crimewatch UK, Real Story) and entertainment (The Antiques Show, Call My Bluff). She took over from Michael Aspel as presenter of The Antiques Roadshow in 2008, and from David Dimbleby on Question Time in 2019.
Trivia
In her youth she modelled for a photo-story in Jackie.
She was named Rear of the Year in 2010. She later said that accepting the award was "the most hypocritical, ridiculous, ludicrous thing I've ever done."
Contact
Knight Ayton Management, 114 St. Martin's Lane, London, WC2N 4BE
Web links
Fiona Bruce at Knight Ayton Management
Feedback