Gameshow Marathon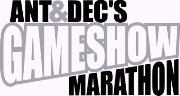 Host
Vernon Kay (Series 2)
Co-hosts
Announcer: Peter Dickson
Broadcast
Granada and Thames for ITV1, 17 September to 29 October 2005 (7 episodes in 1 series)
ITV Productions and TalkbackThames for ITV1, 7 April to 26 May 2007 (8 episodes in 1 series)
Synopsis
To mark ITV's 50th anniversary (and also, we suspect, try out various old shows for a potential full-scale revival), Ant & Dec presented this series of revivals during the autumn of 2005.
Celebrities filled the audience of the very first show in An Audience With... style, and were chosen out of the audience to Come On Down and play The Price is Right. Thereafter, the winning celebrities kept returning on subsequent programmes until either eventually they made it through to the playoffs or they got knocked out. Family Fortunes with real celebrity families was the final playoff, won by Carol Vorderman.
For more info, please see the pages for the individual shows:
In addition to Challenge's revivial of Bullseye, both Family Fortunes and The Price is Right were brought back for full runs afterwards.
The series returned in 2007 with a veteran of the first series, Vernon Kay. The shows used were:
The second series was won by Michael Le Vell, an actor from Coronation Street. It demonstrated the enduring popularity of Mr and Mrs, which was also commissioned for new series.
Trivia
Perhaps surprisingly, this umbrella format has actually been sold abroad. Granada have made a version for CBS, using old American game shows, FreMantle made a French version (Le Marathon des Jeux TV), and there was also a German version (which unaccountably failed to include Maus Res Auss, Riskier Was!, Punkt, Punkt, Punkt! or Die 100,000-DM Show), as well as remakes in Italy, Turkey and Mexico.
For all the former ITV shows, the relevant ident and jingle (Thames, Central etc) was played after the first commercial break, in the same way that Class of... used to show the BBC2 logo relevant to the year in question.
See also
Epic Gameshow, a similar anthology series from 2020, hosted by Alan Carr.
Feedback