Going for a Song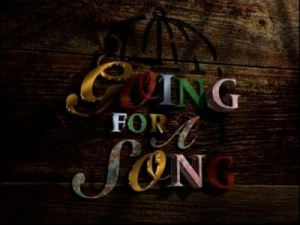 Synopsis
Antiques guessing game that carried Arthur Negus to fame as the show's resident expert, and this was all in the days before Antiques Roadshow.
However, British law has changed since then and now all antiques game shows are obliged to include the word "Great" or "Going" in the title and feature Eric Knowles as an authority. (OK, except Bargain Hunt. We'll give you that.)
In the middle of the format, there was an "identify the mystery object" round. But the meat of the show was about discussing specific antiques. The teams of panellists took turns to identify the nature, materials, age etc. of the objects d'art, and most importantly take a stab at the value. The expert would then give a mini lecture about the piece before revealing the correct answers.
Inventor
John King
Theme music
First movement from Respighi's suite Gli Uccelli (The Birds).
Web links
Opening titles from the BBC Motion Graphics Archive
Pictures
Michael Parkinson, with the famous bird cage which featured in the opening titles of both versions of the programme.
Feedback