Heads or Tails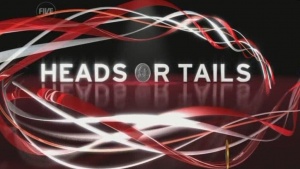 Host
Broadcast
Eyeworks UK for Five, 20 to 30 December 2009 (11 episodes in 1 series)
Synopsis
Justin Lee Collins hosts 11 episodes of a quiz, shown on consecutive nights, in which contestants are given the chance to win £1 million on the toss of a coin.
If you can help us to expand this entry, please provide as much information as possible, using the feedback form below.
Trivia
The original hour long episodes were edited into 30 minute versions, and given a repeat run from March 2010. And no, people didn't watch it then either.
See also
Red or Black? - which also offers £1 million on a 50/50 gamble.
Feedback