I Don't Like Mondays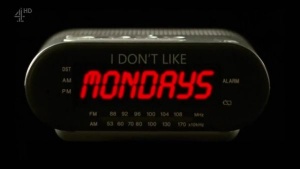 Host
Broadcast
Alaska TV and Magnum Media in association with Travesty Media for Channel 4, 6 to 20 April 2018 (3 episodes in 1 series + 3 unaired)
Synopsis
Alan Carr will give a member of the audience a year's pay, and get them to quit their job.
But which of the audience? Alan is joined by a star guest (in the first three shows: Amanda Holden, Jonathan Ross, Mel Giedroyc). With the guest, Alan does some silly games with a vague relevance to office work. That bubble-wrap stuff you use to secure packages? Try wrestling while holding a large reel of it.
In the style of Talking Telephone Numbers, each stunt generates two numbers, and hence two contestants. These players face one question, such as what percentage of workers have sent email to show they were working late? Closer to the correct answer is the winner.
The final round has the three finalists strapped to a whirly wheel marked with the days of the week. The wheel spins, and the players hope to avoid landing on a Monday. If they do, the right answer to a difficult question can keep them in the game. More "Mondays" are added as the game progresses; spins where no-one lands on a Monday wins extra prizes for the winner. Last player standing is the winner, everyone else gets two days' pay as a consolation prize.
As a game, this is flimsy: before the Wheels of the Week, there's three questions and nothing more. The show stands or falls as an Alan Carr entertainment vehicle, and he's a divisive figure. Viewer reaction was minimal, because viewing figures were minimal - barely above 500,000 some weeks.
Inventor
Chris Fouracre, who also produced the show.
Theme music
Paul Drew and Ellie Wyatt.
The show used incidental music, including a snatch of Paul Farrer's theme to The Krypton Factor 2009. And, inevitably, the Boomtown Rats' classic song "I Don't Like Mondays".
Trivia
According to reports before broadcast, the recorded show has "crazy energy", and was compared to Don't Forget Your Toothbrush. We didn't see it.
Six episodes were commissioned; we are not aware that the last three have ever aired.
See also
Feedback