James McCourt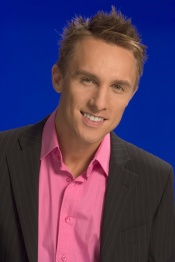 Shows
plus Lotto presenter for various BBC Saturday night shows (Winning Lines etc.)
Biography
Former Disney Channel and Shake presenter, currently working his way up the presenting ranks. Pops up on various lottery formats these days - the inserts for the BBC's Lotto vehicles, in-vision links for the Daily Play on Challenge TV and most recently Euromillions on UKTV Gold.
Trivia
He's the brother of 50% of Dick and Dom, Richard McCourt.
In 2009, he hosted the XBox LIVE version of 1 vs 100.
Contact
Wise Buddah, 74 Great Titchfield Street, London W1W 7QP.
Web links
Feedback