Jo Brand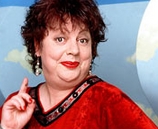 Biography
"Alternative" comedienne whose original career was as a psychiatric nurse, before being persuaded to give stand-up a try. For many years she was known for being brash and getting a lot of comic mileage out of being overweight, but in recent years she's mellowed (a bit) and enjoyed guest spots on shows as diverse as Countdown and Question Time.
Trivia
Brand's original comedy series was entitled 'Jo Brand Through The Cakehole'.
She was apparently considered for the role of the odious Aunt Sponge in the 1990's film 'James and the Giant Peach', but the part was eventually given to the actress (and former University Challenge contestant) Miriam Margolyes.
Maisi, her daughter, is a musician and social media personality, and co-founded Loud LDN on 16 May 2022 along with fellow musician coupdekat; we think the only member with a game show credit is Luena Martinez, who won The X Factor: The Band in December 2019 as a fifth of Real Like You, and who now uses the alias FranQi.
Contact
c/o Vivienne Clore agency (link below)
Web links
Feedback