Leslie Grantham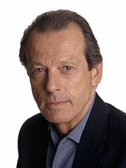 Biography
While serving in the Army overseas, he shot a German taxi driver in a bungled robbery. During his spell in Wandsworth Prison, actress Louise Jameson (you know, off of Bergerac) persuaded him to take up acting. After his 10 year stretch, he got a small part in Doctor Who and shortly after auditioned for the role of market stall holder Pete Beale in EastEnders, but was instead given the role of Queen Vic landlord 'Dirty' Den Watts.
The episode where Den serves divorce papers to his wife Angie was watched by over 30 million people, making it the most-watched regular TV programme in the UK. After leaving the soap in 1989, he returned in 2003, but a leaked webcam video where he made comments about his fellow actors ensured it was a short stay.
Trivia
Grantham took the role as the UK's Boyard when he realised that the producers wanted him to be deliberately nasty.
He died on 15 June 2018, aged 71.
Web links
Feedback