Maestro (2)
Host
Clive Anderson (2008)
Voiceover: Sue Perkins (2012)
Broadcast
BBC Classical Music Dept. for BBC Two, 12 August to 13 September 2008 (5 competition episodes + one performance)
as Maestro at the Opera 4 to 18 May 2012 (3 competition episodes)
Synopsis
Eight celebrities learn how to conduct an orchestra and compete for a spot conducting at Proms in the Park. The basic idea, and the format, were familiar from countless other reality-type programmes: each celeb had a mentor and got one week to learn and rehearse each piece, at the end of which they performed on a live TV show. A panel of four judges each awarded marks out of ten; the two lowest-scoring celebs then went forward to a vote by the orchestra itself, who chose on a simple majority who they wanted to save. In the final, the the winner was chosen by an audience telephone vote.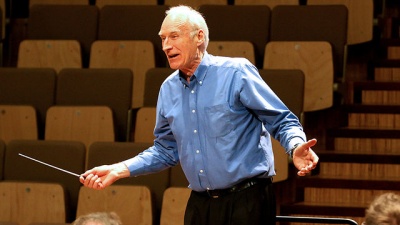 Peter Snow: practice makes perfect... sometimes
Of course, the very notion of "celebrity conductors", "reality television" and "telephone voting" was enough to generate fury from the purists, with much hand-wringing about the cheapening of the classics, the hijacking of the promenade concerts, Sir Henry Wood spinning in his grave and so on. All of which was of course so much piffle - the Proms have always been about ways of bringing classical music to a non-specialist audience, and Sir Henry, shrewd populist that he was, would surely have approved, as do we.
A second series in 2012 had four new conductor-contenders donning their frock coats and waving their sticks in the direction of opera performers. If the show had one failing, however, it was that at the end we still didn't really know what it is that a conductor actually does, only that it's the opposite of what Peter Snow does. Whatever that is.
Champion
Maestro: Sue Perkins
Maestro at the Opera: Craig Revel Horwood
Trivia
A retrospective programme, Maestro: The Inside Story, aired on Christmas Day 2008. This was particularly interesting for the comments from members of the orchestra. The general view seemed to be that Sue Perkins was the right winner because while Goldie engaged with the music, Perkins engaged with the players.
Perkins has conducted the occasional charity concert since the show, but the highest-profile spin-off involved runner-up Goldie, who was commissioned to write an orchestral piece, Sine Tempore, for the 2009 family prom.
Although it lacked the competition element (and the celebrity element, for that matter), the basic idea of training a conductor from scratch was previously used in a Rose d'Or-winning episode of Faking It in 2002.
Pictures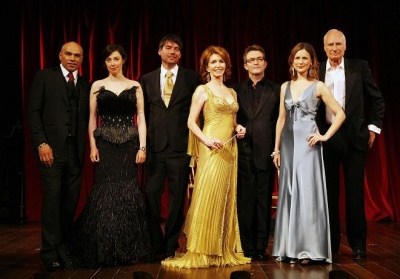 Sticking it to 'em: Goldie, Sue Perkins, Alex James, Jane Asher, Bradley Walsh, Katie Derham and Peter Snow. Not pictured: David Soul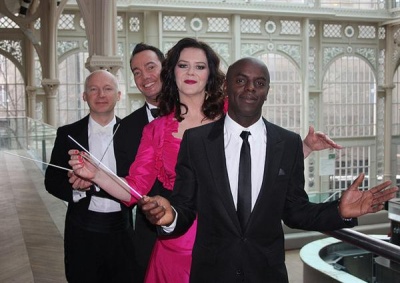 Four for the opera: Marcus du Sautoy, Craig Revel-Horwood, Josie Lawrence, Trevor Nelson.
See also
Feedback