Not a Lot of People Know That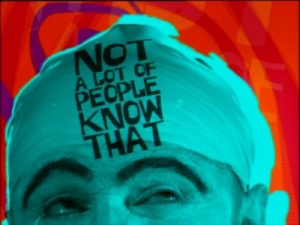 Host
Broadcast
BBC1, 28 January 1995 to 24 August 1998 (21 episodes in 3 series)
Synopsis
Dear, oh, dear, oh, dear, Bob. In Bed With Medinner is a fantastic (for late night) post modern comedy show. Bob Mills' Big 80's on VH-1 is a great music show. Win, Lose or Draw was tremendous fun when you were at the helm. You were a bit good on Games World.
So then... Not a Lot of People Know That. What's the excuse? As if we didn't need another celebrity comedy panel game, this is one of the poorest yet. OK, so news (Have I Got News for You?), sport (They Think it's All Over) and pop music (Never Mind the Buzzcocks) are intrinsic to life, but... the Bizarre? Why?
The opening of the show is enough to give you a migraine, and we are introduced to seven celebrities (in The Usual Suspects style), one of which is meant to be Chris Evans. Two team captains are picked (decided on who bought Bob the most drinks before the show). Those two people would pick two people each, leaving "Chris Evans" to go home.
Sigh. Suppose we better describe the rounds, then:
What the Footage is going on?: Yes, you may very well ask. Celebrities see some news footage and try to guess what is going on.
What the Function?: Yes, what is the function of this show? And, yes, after getting away with the fact that there are two potential mentions of the word f*** in the the round titles, it's Call My Bluff with a bizarre object (no, not Sandi Toksvig).
What's In The Old Man's Bag?: An old man has a bag. And there's something in that bag. And by being given clues laced with innuendo they have to work out... (go on, guess!) what is in the Old Man's bag.
Get Your Socks Off: A celebrity is "randomly chosen" by a "completely random" process (such as the show with Joe Pasquale on... "Which person has the highest squeakiest voice?"). The victim would sit on the... Chair of Doom (da-da-dah!), their feet dangling above... the Bucket Of Destiny (sharp intake of breath). The player couldn't see what was in the bucket so had to try and guess by the use of feet alone. It was usually something fairly disgusting, beer and kebabs or something like that [beer and kebabs are never disgusting - Ed].
Final round: Not only had they run out of titles for the rounds by this point, most of the audience would have switched off. Random bizarre questions, each one doubled your score.
An adult, late night game show about trivia could have worked (to wit, see the success of the You Don't Know Jack computer game). But this show wasn't trendy or post modern.
Key moments
The Get Your Socks Off round which usually brought a smile, mainly because there was only five minutes of the show left by that time.
Web links
Opening titles from the BBC Motion Graphics Archive
Feedback