Phillip Schofield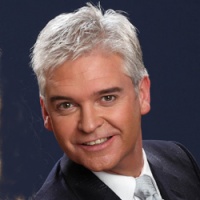 Biography
Phillip emigrated with his family when he was 17 to New Zealand, where he fronted Shazam, a pop music show. Further radio and TV jobs followed during the next three years.
Shortly after returning to the UK, he began presenting programme links for Children's BBC from the "broom cupboard", in conjunction with a puppet called Gordon the Gopher. His other shows included quiz The Movie Game, "Take Two" (the kids' version of "Points of View") and later Saturday-morning show Going Live!.
A mish-mash of different ITV projects in the 1990s - from holiday shows to documentaries - didn't particularly do him justice, with the exception of Talking Telephone Numbers which ran for a creditable four series. Until May 2023, when he quit the channel, he was exclusively an ITV presenter, where he was the main presenter of This Morning between 2002 to 2023, and presented Dancing on Ice and The Cube.
A surprise hit in the theatre in Joseph and the Amazing Technicolor Dreamcoat (he took over the title role from Jason Donovan), he returned to the stage in the acclaimed Doctor Dolittle.
Trivia
Phillip Schofield was the first in-vision presenter to link the famous weekday afternoon programmes slots on Children's BBC.
While he was hosting "Take Two", Schofield was apparently approached by the then Blue Peter editor, Biddy Baxter, to become a presenter on her show without even having to go through an audition, but he turned the offer down.
Schofield's first proper foray into 'grown-up television' occurred in the late-1980's, when he hosted a series entitled "Schofield's Europe", visiting a number of different European countries. In 1992, he hosted a very enjoyable peak-time show entitled "Television's Greatest Hits" (not to be confused with the later Gaby Roslin-hosted show of the same name), in which he looked at the highest-rated programmes of a specific year and had studio guests relating to the year in question: these included game show names Nicholas Parsons (talking about Sale of the Century) and Hughie Green (Double Your Money - see the clip) as well as Emlyn Hughes (relating to Hughes's Liverpool team's FA Cup victory in 1978 rather than A Question of Sport), Ronnie Corbett, Tammy Wynette, Brian Blessed, Sir Denis Healey, Lynda Baron and the immortal Pinky and Perky. A shame that the show only lasted one series (plus a Christmas special): it definitely deserved at least one more series, but even if that had been on the cards, Schofield's move to ITV put paid to it.
He also presented a video-documentary on Jersey Zoo around 1989, in which he visited said zoo and spoke to its founder and director, the late, great Gerald Durrell, about the zoo's aims and projects. (Durrell confirmed that all the animals in the zoo were endangered - and then amusingly claimed that he himself was the most endangered of them all). Schofield then went to look round, and soon found himself getting actively involved with a number of the animals, including feeding the gorillas. He'd not really anticipated having to do the latter - and was noticeably nervous beforehand - but he managed to do it and found out in the process that the gorillas were much gentler than he'd originally imagined. A well-produced, enjoyable and educational video.
Another curious one-off role was fronting Six Little Angels, a 1993 documentary marking the tenth birthday of the Walton sextuplets, the world's first known surviving all-female sextuplets.
Web links
Feedback