Pigo dy Drwyn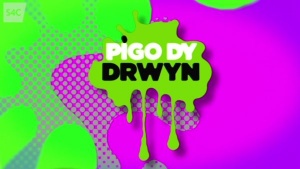 Host
Mirain and Gareth
Broadcast
Boom Plant for S4C, 7 January 2017 to 4 April 2020 (39 episodes in 3 series)
Synopsis
A physical game show for school teams, themed around noses and snot.
Some children from each team are picked to take on tasks. They might have to put noses as high as they can up a wall, play basketball while teathered on a bungee cord, or retrieve noses from a giant sphere. Winning each round earns an extra five seconds in the last challenge; losing means someone from the team will be gently slimed.
Each show ends with players crawling along a conveyor belt to pick noses off a washing line. The result is revealed by gunging both teams: only the winners are covered in green snot.
The basic format is familiar to the parents' generation: picking teams from 50/50, with challenges to remind of Gladiators and just a dash of The Crystal Maze.
For the children, the target audience of 7-11 year olds, history is bunk, and this is entertainment for the young. It's slightly gross, in the way ten-year-olds love.
Trivia
The series title translates as "Pick your nose".
The first series of 13 episodes aired in Stwnsh Sadwrn, the live Saturday morning magazine show for children. A second series in autumn 2017 went out in the weekday Stwnsh block.
Web links
See also
Feedback