Rowland Rivron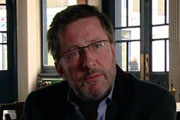 Biography
Comedian who came to fame through appearances on Jonathan Ross's The Last Resort and as 50% of the terrible musical duo Raw Sex who featured on early editions of French and Saunders.
He was also a regular reporter on the BBC's Holiday programme.
Trivia
Aged 15, he played the drums on Blue Peter.
Web links
Feedback