Shammy Dab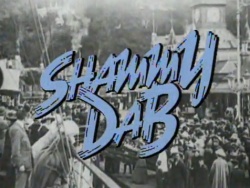 Host
Bill Torrance
Co-hosts
Team captains: Andy Cameron and George Duffus
Musical director: Art Sutter
Broadcast
Shihallion Television for Grampian (regional), 8 January 1985 to 1 June 1989 (54 episodes in 6 seires)
Synopsis
Comedy panel game broadcast throughout the 80s in Grampian-land.
The Renaissance Man of BBC Sport, Dougie Donnelly, presides over two teams of comedians who were posed questions by ver Donnelly. Much time was taken up taking the Michael out of Dougie's hair/clothes/career.
There was one round where the teams had to guess what tune was being played on the piano by Art Sutter, who also posed a couple of questions. During one of these games, the song was Distant Drums and Andy Cameron said he'd wished it was Distant Pianos.
Bill Torrance's recollections via the mysterious "Mike":
Shammydab had started about 5 years earlier on Radio Forth as a series entitled "Fair Flummoxed". I thought up the idea and presented it on the radio for 2 or 3 years. In the early days, the teams were in the main Scottish country dance bands (Jim Johnstone's band versus say Bobby McLeod's).
Clark Tait [former head of programming at STV] asked if I would try it on STV. The idea was picked up by one Martin Cairns of Grampian. I changed the name to "Shammydab" (a kind of cheap wall decoration where a wall was stippled using a wet sponge - when done well, it was said to be the shammydab or latterly just the dab (similarly, if someone was good at something ----they were described as being a "dab hand"!)
I presented it on Grampian for a few years. Early guests included Molly Weir, Russell Hunter, Trevor McDonald, Sandy Gall, and indeed anyone with a tenuous link to Scotland. The early theme tune was written by Dave and Barbara Murricane and "rendered" by Bill Torrance! Cheap and cheerful... unfortunately, it became more cheap and less cheerful!
Trivia
Very little footage from this series has been kept by Grampian, thanks to a mass clearout of their archives when the station moved studios in 2003. The reason for the clearout was...storage.
Theme music
A latter-day version was arranged by Dave Murricane and performed by Fife folk duo Beggars Mantle.

Opening titles
Web links
Feedback