Sing If You Can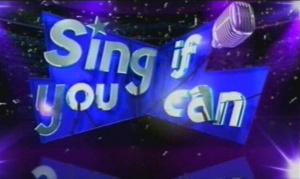 Synopsis
Two teams of three celebrity contestants attempt to sing songs while being distracted in a number of different ways. Their performances are judged by a panel, however the studio audience ultimately decide which team progresses to the final round. Here, the longer the team stays on a revolving turntable while singing, the more money they win for the programme's charity, the Teenage Cancer Trust. In addition, for no adequately explained reason, one member of the losing team is also dropped into a pool of water. What japes!
If you can help us to expand this entry, please provide as much information as possible, using the feedback form below.
Trivia
Vernon Kay was originally due to host alongside Stacey Solomon but pulled out after feeling it would be better if a comedian presented the programme, so Leigh Francis as his alter-ego Keith Lemon was drafted in. We wouldn't find out what the program was like with a comedian presenting it until eighteen months later, when it was remade in the US as Killer Karaoke, with future Revolution host Steve-O in charge.
Web links
See also
Feedback