Star for a Night
Host
Co-hosts
Judges: Barbara Windsor and Nigel Martin-Smith
Voiceover: Mitch Johnson
Broadcast
Mentorn Barraclough Carey for BBC One, 26 June 1999 to 20 October 2001 (pilot + 24 episodes in 2 series + 1 special)
Synopsis
Jane McDonald surprises nominated people in their everyday lives, telling them that they're going to sing on television. After a week of practice, they do their piece and a panel of judges gives comment. After everybody has sung, the judges decide who the winner is, er, and that's it. Oh, and Jane McDonald sings.
Inventor
Based on a Canadian format.
Trivia
Famously the discoverer of one Joss Stone who won one-off special Junior Star For a Night. Another act in the same show, Alexandra Burke, became the 2008 winner of The X Factor.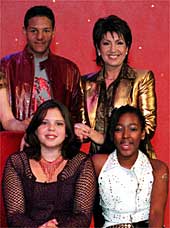 Publicity photo for the Junior one-off with Alexandra Burke pictured at the bottom right.
One of the contestants was former Take Your Pick hostess Sasha Lawrence, as a singing act.
Web links
Pictures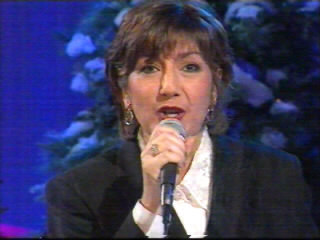 The ego-elevating moment of the whole thing - reminding us why Jane was presenting this show.
Feedback