Tara Palmer-Tomkinson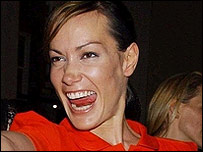 Biography
Former socialite with royal connections (her father was Prince Charles' ski instructor), and latterly a newspaper "diarist" who also did a bit of telly. She won Comic Relief Does Fame Academy in 2007.
She died on 8 February 2017, aged 45.
Trivia
She was a concert-level pianist and played with the National Symphony Orchestra at the Royal Festival Hall.
Web links
Feedback