The Big Spell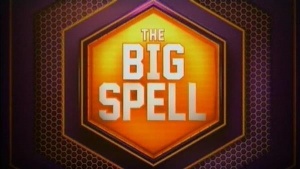 Host
Co-hosts
Pronouncer: Moira Stuart
Broadcast
Remarkable Television (part of Endemol Shine Group) for Sky 1, 8 January to 26 February 2017 (8 episodes in 1 series)
Synopsis
Children between the ages of 9 and 13 compete to be crowned the UK's Champion Speller.
The challenges include speed spelling (as teams and solo). They're asked to spot and correct the incorrect spelling. The players will type in the right spelling, and recognise words from their definition. There will be chain spelling, where each player takes one letter in turn. And there's the traditional spelling bee, where one error will take you out.
The contest is between children of 9 to 13 years, and is in front of a small studio audience. Sue Perkins hosts on stage, she brings empathy and bonhomie, and brings out the best in the youngsters. Words are pronounced and enunciated by the clear diction of Moira Stuart. Joe Lycett spends most of the show backstage, hearing reactions from the parents.
The Big Spell has a very unusual style, it cuts between action on stage, reactions from Joe and the parents, and confessional pieces from the children. It made for disorientating viewing, and some viewers wondered if they were seeing the whole contest. We reckon the producers found themselves light on material - each hour-long show had about 25 minutes of spelling action, and had to pad out with emotional manipulation.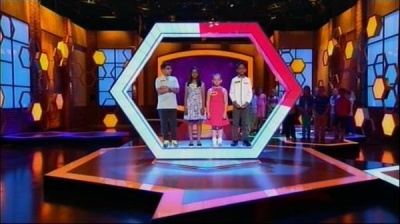 Hexagons were the show's motif; the colour scheme was close to Hive Minds.
In its native Australia, Spelling Star was hyped by Network Ten, didn't live up to expectations, and was relegated from primetime to a lesser slot. This side of the world, The Big Spell received only quiet promotion from Sky, went out at 5.30 on Sunday evenings, and lived down to these reduced expectations.
Theme music
According to the credits, "Original music by Dinesh Wicks & Adam Gock of the DA's Office"
Inventor
The credits say, "Based on the format 'Spelling Star' created by Endemol Shine Australia and Network Ten Pty Ltd 2014. Format distributed by Endemol Shine Group."
Web links
See also
Feedback