The Greatest Snowman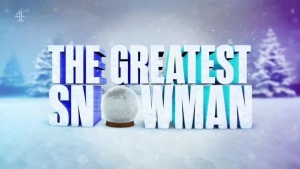 Host
Co-hosts
Emilie Steele, Sara Steele, Taslim Martin (judges)
Broadcast
South Shore for Channel 4, 24 December 2021 and 26 December 2022
Synopsis
A Channel 4 press release melted into our in-tray:
A pack of celebrities travel to an Alpine resort to compete in an epic snow building competition.
With thousands of tonnes of snow and giant blocks of crystal-clear ice at their disposal, the celebrities will go head to head across three tough rounds that will test both their brain and brawn.
Supported by a crew of seasoned sculptors, engineers, and snow builders these stars will have to design and create some of the most extraordinary snow creations ever seen on TV.
Judged by experts, all will risk chilblains as they attempt to carve and construct incredible structures made from snow and ice. The competition will culminate in the ultimate snowy challenge where the famous faces will use all they have learned in each round to attempt to construct The Greatest Snowman!
A competition in three rounds. The contestants started by carving a massive block of snow into the shape of one of their favourite Christmas presents. They're ranked from first to worst.
The top-ranked player chooses teams for the second challenge, to build a structure out of small blocks of snow, using water to hold the bricks together.
Final challenge is to build a snowman. Literally, carve a sculpture from out of another giant block of compressed snow. These are all-day tasks, and the celebrities have the assistance of experienced snow sculptors to help with the manual labour.
Explanations came from the judges: Emilie and Sara Steele are ice sculptors, Taslim Martin is a stone sculptor. Their final decision was to reward Laurence Llewellyn-Bowen with the title, though Liam Charles was the winner in your reviewer's heart.
The Greatest Snowman was a pleasant and undemanding show, perfect for 8 o'clock on Christmas Eve night.
Participants
2021
Dani Dyer
Liam Charles
Cherry Healey
2022
Gemma Collins
Joe Thomas
Yinka Bokinni
Inventor
Development by Ed Phillips and Jonny Coller
Trivia
Filmed on location in Hochfügen in the Austrian Tyrol.
Stuart Brass and Spencer Claridge were credited as "Snow Consultants".
Web links
Feedback