The Main Event
Host
Broadcast
Reg Grundy Productions for BBC1, 1 May to 24 July 1993 (13 episodes in 1 series)
Synopsis
Before Who Wants to be a Millionaire? and after Tiswas, Chris Tarrant did a fair number of shows he would probably like to draw a curtain over. However, being the perverse people we are at UKGameshows.com, we're going to open that curtain for his abject humiliation. Hurrah!
Maybe that's being a bit harsh because although The Main Event certainly wasn't Mr Tarrant's finest hour it was actually quite good. Well, it was alright at least. At the time it was sort of revolutionary - instead of going to a studio to compete, two families stayed at home and the studio came to them. Or part of it did at least, as in the real studio in London were the other members of each families' teams - random celebrities from various television programmes. So then there were two teams, each one consisting of a family of four at home and three celebrities in the studio. That's seven people, arithmetic fans.
Sadly, we can't remember much of it. We remember a round where the celebrities in the studio had to mime as many historical events as they could in ninety seconds and the families watching it on their screens at home had to guess them.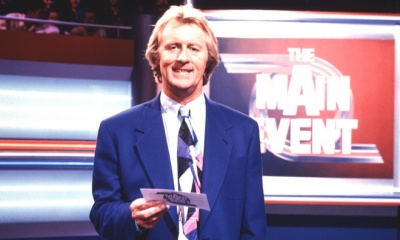 Chris's question card pose.
There was also a Scavenger Hunt round called 'Go and Grab it' - the celebs from the opposite team were given a list of ten obscure items the producer had spotted around the house during the day. They'd pick five and then one of the kids would be given a minute to find all the items and bring them back to the living room. This was such the highlight of the show that in the Grand Final they played it twice.
The rest of it was an amiable enough mixture of quizzes and games, nothing truly groundbreaking (because we'd remember them otherwise) but nothing offensively bad (because we'd remember them otherwise) or indeed nothing truly memorable (just because).
The Main Event then? Not really, more like a dodgy support band who no-one listens to or cares about but were actually not too bad if you actually listened. If we remember correctly this was up against stiff competition on ITV like Blind Date and Gladiators which arguably felt more like a main event. And now funnily enough WWTBAM is the real main event for ITV on Saturday night. Funny how things turn out, isn't it?
Inventor
Craig Johnston, the former Liverpool FC footballer whose CV also includes designing football boots, surfboards and a system for managing hotel minibars, writing Liverpool's hit single Anfield Rap (he still gets PRS cheques for odd amounts) and more recently photographing objects for the auction house, Sotheby's.
Feedback