The Time it Takes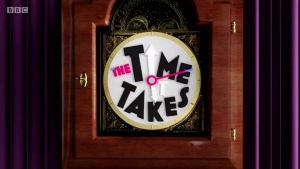 Host
Co-hosts
Alison Hammond (referee)
Broadcast
Hat Trick for BBC One, 3 November 2018 to 2 February 2019 (8 episodes in 1 series)
Synopsis
From the BBC Press Office:
What takes longer - unwrapping every Werther's Original in a family pack, completing a Rubik's cube underwater or deflating an air bed and putting it back into its original box?
These are the kinds of scenarios the contestants must choose from as timers on BBC One's new Saturday teatime game show, The Time It Takes. The challenger who gets the most questions right in their given timescale will be one step closer to winning a dream holiday. The player with the lowest score will receive a very special The Time It Takes tea-towel before leaving the show.
At heart, The Time it Takes is a general knowledge quiz. Players answer general knowledge questions against the clock, and whoever gets the most answers right in the round will win. Some of the fun comes from the questions, witty and interesting while still being clear.
But most fun comes from the timers. Will it take Alison Hammond longer to completely shave a toy pony, or to hang up a football team's shirts? While the contestant answers questions, Alison is doing something bizarre on the other side, and Joe Lycett is asking questions as though nothing out of the ordinary is going on.
Later rounds involve video clips, and the timers being done by other contestants and by celebrity guests. The show's winner can win a two-week break somewhere nice like Barcelona. The Time it Takes is a fun show.
The precise format details are:
Three contestants take part. They've drawn straws to decide who gets first choice in the first round, where the timers are performed by Alison Hammond. Ties in any round are broken by whoever's timer in that round was longest to complete.
Scores carry over to the next round, a set of video clips. First choice goes to the player in the lead. Whoever's in last place leaves the contest here.
Scores are reset for the head-to-head final, where the timers will be performed by the other player. Highest score wins, losers are dispatched with a The Time it Takes tea-towel.
For the final, the winner chooses between Joe's soup (it'll take one minute to heat in the microwave) and the celebrity guest and their timer. Five correct answers will win two weeks in the winner's chosen destination. Fewer correct answers win a week or a weekend in that place; fewer still earn a day-long experience or a lunch in a themed restaurant near their home.
Catchphrases
"My timers, your choice."
"Bring forth the timer!"
Inventor
Jimmy Baker
Title music
Rage Music, credited for Music
Trivia
Ran for 35 minutes early on Saturday evening, before Pointless Celebrities.
Web links
See also
Feedback