Top Club
Host
Hosts for known years:
Jimmy Spankie (1978-9)
Jimmy Mack (1984)
Frank Gilfeather (1991-8)
Broadcast
Grampian, 1971?-98 (also shown on STV from around 1990)
Synopsis
Very popular team quiz featuring clubs and organisations from across the North of Scotland taking part in an annual knockout tournament to find the Grampian region's Top Club of whatever year it was.
The show was later shown in the neighbouring Scottish region after STV brought the company, which proved to be its downfall as the Glaswegian owners started to cut the Aberdeen station down to size around this time.
Trivia
In the 1990s, it was broadcast on Friday nights at 6:30pm after North Tonight, the local news programme. Before that, it usually went out on Tuesday or Wednesday at 7pm.
Host Frank Gilfeather later claimed in an interview that Top Club achieved audience shares of up to 51%. It was also at one point the most watched regional entertainment show in the ITV network. Nice ratings if you can get 'em!
Future cabinet minister Michael Gove appeared as a member of a team of journalists, The Wordsmiths, in the 1990 series.
Pictures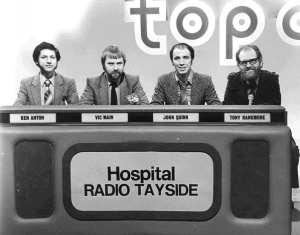 A team from Hospital Radio Tayside during the heyday of the show.
Feedback