Ulrika Jonsson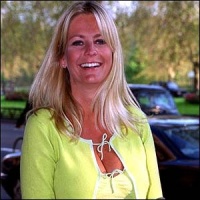 Biography
Swedish blonde bombshell who presented the weather for breakfast channel TV-am in the early 1990s. Best known for fronting Gladiators for nine years, although a string of other game shows have followed. She was also the team captain on Shooting Stars.
Rather bizarrely, she married Lance Gerrard-Wright, the winner of Mr Right, a romantic reality show that Jonsson was only supposed to be hosting! They had a child together but separated in October 2005. Jonsson has three other children from three former relationships.
Her 2002 autobiography, Honest, contained some startling revelations about her past. See the entry about John Leslie for further details.
Trivia
She was reported to have had an affair with England football manager Sven-Goran Eriksson, in an episode dubbed by the tabloids as 'Svengate'.
In 1997, she made a one-off comedy show, It's Ulrika!, with Vic Reeves and Bob Mortimer.
Ulrika is actually her second name, after Eva.
Books / Tapes
Contact
Take 3 Management, 110 Gloucester Avenue, Primrose Hill, London NW1 8HX
Web links
Feedback