Weaver's Week 2004-11-06
6 November 2004
Iain Weaver reviews the latest happenings in UK Game Show Land.
Last week, those fine people at the topical quiz Have I Got News for You replayed their favourite clip of the ancient game show Shafted, before moving on to discuss the best military tactics for use in the Crimean war. This is either a reference to Jasper FForde's "Thursday Next" books, where the war in Crimea continues to this day, or proof that they'll be muscling in on Time Commanders before the series is out.
(12 Yard for BBC2, 1800 weekdays)
When we first heard the outline format for this series, we were more than a little nonplussed. Here's the original contestant call, from the end of July:
"12 Yard Productions are looking for contestants for a brand new exciting game show for the BBC. The show is called 'Beg Borrow Steal' and this game show is unlike any other.

"The aim of the game is simple. Five strangers will be competing for a prize fund of up to £10K. In each round the five contestants will have to answer 5 general knowledge questions... BUT, in order to win any money in this show, you have to answer all 5 questions correctly. Consequently, at some point in the game you will have to Beg Borrow and Steal the answers.

"We are looking for bright, honest and competitive people who would like to take home their share or the entire big cash prize fund for themselves."
The finished product is almost exactly as described above. There have been a few slight changes - the prize fund now only reaches £9000, and there are but four questions in each round. But the essence is still there.
In summary, the program works like this. Jamie Theakston is the host, he briefly explains the outline rules and makes us wonder "Shouldn't he be wearing a tie with that shirt and haircut?" The contestants are introduced by clips from their audition tapes, and we briefly see a black-clad researcher explain the rules of the game to them.
There are three rounds of questions; Jamie Theakston reads out four questions, and the contestants can discuss matters in the Red room, in the Blue room, or on the central Bench area. Jamie sees all that goes on from his observation screen, situated in a private room by the bench. After a short discussion period, each contestant goes into Jamie's room, and gives their four answers. Jamie also discusses what they said, what they think about other contestants, whether they'd like to see him after the show...
Assuming one or more people got all four answers correct - and these are not particularly difficult questions, but it's rare for this column to know we know all four answers - then they split £3000 between them. If no-one gets all four correct, then we go to a tie-break, which is played like a multi-party version of Shafted's endgame. The contestants can Share or Steal. If exactly one person elects to steal, they get all £3000. If no-one steals, or more than one person steals, then the money is split between those who shared. It's not clear what would happen if everyone elects to steal the money.
This repeats three times, and if the contestants lack one of the answers, we may get three tie-breaks. Whoever has the highest score goes on to play in the final. If there's a tie, everyone on that score plays in the final, and the prize pool is for the total amount those players bring in.
The final is another set of four questions, and four correct answers must be given by the finalist. If they fail, then they must invite one of the other players in to give their answers; that second player will win a share of the pot whether they give correct or incorrect answers. Whoever is in the room when the four correct answers are given splits the pot. It's not clear what happens if no-one gives all four answers.
Beneath all this is the usual intrigue, subterfuge, lying, and (in one episode, where all three rounds went to a tie-break) bare-faced honesty in a deliberate attempt to build up the pot to the full £9000, then share it out between as many contestants as possible. That episode posited a sixth contestant in the game, the 12-Yard Banker, much as television is assumed to have a fourth wall that isn't usually broken.
Now, this is a 12-Yard production. Where does it stand in the list of 12-Yard Format Cliches we spotted last year?
Five contestants. Yep.
Previews of what's to come before the game. Indeed.
Use of audition clips to introduce the contestants. As seen on Without Prejudice? 2.
The same round played over and over again. Yep.
A multiple choice element. No, there are no options for the answers.
Red and blue rooms. A straight lift from Double Cross.
People dropping out of the game. No, everyone's in it until the end.
A curved bench. Yep, as seen on Friends Like These, inter alia.
Some sound through most of the game. Yes.
So, given all the familiar bits of the format, why do we think that BB&S is actually rather good? Two reasons stand out:
First, we do have a good deal of respect for Jamie Theakston. He's been rather wasted on The Games, but comes into his own when discussing the game with the contestants. His all-seeing position enables him to raise an eyebrow at some of the more outrageous fibs the contestants tell each other, and hence draw us into his confidence. He's also very good at letting the contestants dig their own graves, and entrap themselves. It's rare that we find a host makes the show, but this is one of those occasions.
The fundamental question of how good is a format has to be: if we were to take control of the game, what changes would we make? Perhaps the only change would be to reduce the prize fund if none of the contestants knew the answer to a question: if their collective brains only know three of four answers, perhaps have them play for £2400. Makes the maths more interesting. Other than that tinkering, nothing much to do here.
Perhaps we've finally found two winning formulae for the 6pm slot, and just in the nick of time. With Beg, Borrow and Steal in place, and with Headjam available, the Beeb has finally found some winners. Now, do they want to pick up 19 Keys and make it a treble all round?
Second phase, 2/6
Michael Kane has moved from Buddy Holly to the Life and Reign of Charles II. The round teaches us that habeas corpus only passed because one fat peer equals ten small ones. Michael scores 9 (0)
Daniel Blackburn has changed Sergio Leone for the government of John Major 1992-97. Like the government itself, this round starts promisingly, quickly falls down, and never really recovers. One question is about Derek Lewis, the "him" whom Thumper spent many a happy hour asking if Michael Howard had threatened to over-rule. He finishes on 7 (5).
Allan Cook was on Wittgenstein, but tonight it's the Life and Works of Albert Einstein. The great man's many works began with an interest in a simple pocket compass, we learn. Allan scores 8 (2).
Andrew Lyman has moved on from Geoff Boycott to The Hitch-Hiker's Guide to the Galaxy, the Radio Series and Books. This edition was recorded before the recent broadcast of the Tertiary Phase, and it's evident that John Humphrys hadn't got a phonetic guide to some of Douglas Adams' more flamboyant names. Andrew finishes on 7 (4).
Daniel guesses well during his general knowledge round, but 13 (9) doesn't look like a winning score.
Andrew's first general knowledge question is a masterpiece of diplomacy: "In 1993, who was the first British grand-master to win the right to challenge for the world chess championship?" This neatly side-steps a veritable hornet's nest of claim and counter-claim involving Nigel Short and Garry Kasparov that hasn't settled to this day. He finishes on a very respectable 20 (6).
Allan never really gets into his stride, and finishes on 16 (4).
Michael is last up, and has a question about Major Major - not the prime minister, but the Catch 22 character. He has a minute to get five questions correct, but then falls into a run of errors. With the very last question, he advances to 20 (2), winning by just four passes.
First round 8/14: Glasgow -v- Edinburgh
Edinburgh were last with us two years ago, losing a dour match to Southampton; the team in 2002 made the semi-finals. Glasgow lost to Aberystwyth five years ago. Glasgow's team has two maths and two philosophy and anthropology students, which strikes us as rather unbalanced; Edinburgh has a lawyer, physics, maths, and history student, which is a rather good balance.
Glasgow invites the wrath of Thumper with only their second answer by suggesting that Marie Antoinette was around in the 1550s. The first picture bonus round defies a snappy title, so we have to call it Name The Country From Which Comes That Sign Depicting A Man At Work (His Hat May Help, But It May Not.) No doubt we'll be seeing an extended run of this format in the 6pm slot before next year's out.
Edinburgh leads 35-20 at this point, and shortly goes on to have each member answer one of their first four starters. Glasgow gets questions about Jewish writings that didn't even make the Apocryphia, never mind the Bible. They'd need a religious expert on the team, and they're not at all common - so far this series, only Newcastle five weeks ago had one of them. Then Glasgow gets Latin neologisms, such as tempus maxima frequentia.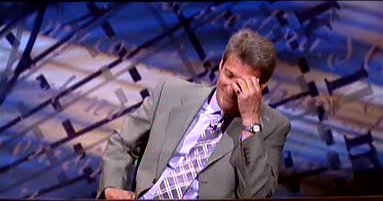 The audio round is Name That Opera (Ignoring The Annoying Drum Beat). Thumper doesn't think this is a good idea. From his pained body language, Thumper thinks this may be the worst idea since - well, forever. Edinburgh is 90-40 ahead.
Edinburgh has a 2-1 advantage in native Scots this week, and takes the almost inevitable Scottish history starter - this one's on Bannockburn. One of the bonuses is on the Roses counties of York and Lancaster, a nod to one of the other arranged pairings in this opening round. Only two of the first twelve sets of bonuses see two correct answers. The second picture round is Name That Book From A Painting On A Cover. Edinburgh's lead has been pegged back to 100-80.
With a few minutes to go, the burning question is are the teams going to beat the record low of 230 points? "No" is the short answer - even though Edinburgh gets a starter right on the gong, their score will not advance above 125, to Glasgow's 100. Not only is this 225 the lowest aggregate total, Edinburgh has also come in below Queens' Oxford's record low winning score of 140 from a year ago last week.
The top scorers: Emily Drayson led Edinburgh with 41.4; Oliver Robertson's 50.5 was the best buzzing for Glasgow. Glasgow made 3/30 bonuses with three missignals; Edinburgh had 8/24 with one missignal.
The repechage entries are still unchanged: Univ Oxford 150 Jesus Cambridge 145 York 120 Downing Cambridge 105
This Week And Next
A close Brain of Britain final saw Alan Bennett and Emma Schlesinger match each other point for point until the second music round, when Mr Bennett took a two point lead that he would never relinquish. Our congratulations to him, and a note of thanks to Russell Davies, who has been an inspired stand-in for the recuperating Robert Robinson for much of this series. Mr Bennett will now play the last two year's brains in Brain of Brains; the winner will come back in three years' time to find the Top Brain 1999-2007.
New to view next week: The Great Lottery Game Shows appears at 1935 tonight on BBC1, while C5 has The Curse of Noel Edmunds at 2200 Mo. For cable and satellite viewers, QI comes to G2, Going Straight (1600 Sa) and International King of Sports (1930 Sa) appear on Challenge.