Weaver's Week 2015-10-11
Last week | Weaver's Week Index | Next week
"TV's no longer a track meet or race. It's parkour: People are everywhere, on devices you don't control" – Dan Biddle.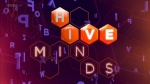 Saltbeef Prodctions and Green Inc for BBC4, 6 October
Here's what happened in the final of best little show you didn't watch. You missed a treat.
Pascallywags featured in the first show, and in the last one. Trivium featured in the second show, and in the last one. Neither side has been defeated, though Pascallywags were taken to extra hives by the Lutrophiles.
And it's Trivium who find "one of the seven deadly sins that's also in a Pulitzer prize winning book." By inspection, they know that "Wrath" is the only one to fit the bill. Zero seconds, five points. The teams miss a father-and-son England cricketer, and a Cambridge college that's two apart from a comedian, but the Wags pick a bonus point on a primate that's one letter away from a bird.
The teams both miss Foster and Reichstag (architect and his building), but the Wags score two on Bessemer and Steel, and a bonus on Xerxes and Salamis. "As seen in the movie 300. Lots of men with six packs and no clothes. Can't think why I've not seen it," says the host. All through the series Fiona has put up an earnest front: is this an actual joke? African countries don't help either side, so it's 5-4 to Trivium.
According to quiz tradition, the final is meant to have harder questions than normal. Looking back over the first shows, we can see the answers have become a little more obscure, but most of the difficulty has been in longer words (trigonometric and quadratic in Trivium's mathematics hive), and the false leads (polynomial isn't quite there, but it takes time to be sure).
And it's been in very obscure categories, such as Croatian islands. "Losenj"? Isn't that what we put down when we're making up words in a Scrabble set? That's pointless for the Wags; Trivium get one on Bond girls, but it's not "Galorf".
"If we go for classical music, we might get obscure operas," think the Pascallywags. They go for UK history, and "Queens consort of English kings from the houses of Plantagenet and Anjou." Berengaria? Isn't that a stomach complaint? No, it's the wife of Richard I, and means the Wags score just two.
"American presidents" is the subject of Trivium's superhive, before which the Wags are asked to leave the studio. Just over a minute for Trivium to find the set of eight – with bonuses, ten points. A modestly easy set, somewhat easier than Croatian islands. "American presidents" is also the subject of the Pascallywags' hive, using eight answers the opposition didn't face. Just under a minute to find the set of eight.
All of which means it's still close: Trivium's lead is 18-16 going into the final round. Lots of answers, and it takes just two answers for the Wags to draw level. And two answers for the lead to re-open, Trivium spot "Dubstep" and the Wags reckon the "dodo" was a mammal. The scores go up and down, Lister and Portillo give Trivium a two-point lead, and that's the game.
Trivium win by 20-18. As is traditional on BBC4 quiz shows, the trophy presentation takes place during the closing credits, with the lights turned down.
And that's the series of Hive Minds. Will there be a second series? Frankly, we don't know. The show hasn't been attracting big ratings: it started with half a million, lost 50% of its audience for show two, and seems to have been moseying on in the low six figures. That may be OK for BBC4. All the episodes were recorded in one block, over four or five days, so the programme isn't very expensive to make.
There are problems with pacing – the second round takes a long time to play without altering the result much. And while we've joked about not knowing some of the answers in the final, the casual viewer might not like this wilful obscurity. Even on BBC4, the answers need to make sense when they're explained to the viewer. Losenj is a Croatian island. What are we to do with that fact?
The basic idea of the quiz is sound. Ask a question, find the answer before it vanishes. Great minds could do something with the concepts from Hive Minds. We hope they get the chance.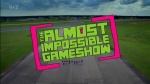 ITV2, from 1 October
From the sublime to the ridiculous, and ITV2's Thursday night schedule begins with this new series.
We need to think back about five years, to a time when Total Wipeout was still popular. You'll remember Total Wipeout, the one where people tried to cross obstacles and fell in the water a lot. To a certain segment of the audience, this slapstick is the highest form of comedy known to man.
Now, this column doesn't love slapstick. This show is always going to be on the back foot, it's got to impress us a lot for us to like it. Not using the space in the middle of "game show" puts it further on the back foot.
The contestants are dressed in bright lycra, and are given some daft things to do. For instance, shake croissants off your body in ten seconds. Or get into a pair of trousers while running on a conveyor belt. Why? According to The Almost Impossible Gameshow (sic), seeing people fail to get into a pair of trousers while running on a conveyor belt is intrinsically funny. Really?
As it claims to be a contest, the show has some rules. Players are required to get through five challenges in order to complete the programme. They can get through challenges in two ways: by completing the task, or by failing it 15 times. But players who fail challenges a total of 50 times are off the programme.
Rather than concentrate on one player doing the same thing over and over, the programme cuts between stunts. So we'll see croissant-shaking man, then conveyor-trousers woman, then someone trying to get over hurdles while blindfolded, and so on, and so on. Later, people will move on to other challenges, and we'll follow them round, and so on, and so on. All of this is as pointless as it sounds.
Total Wipeout owed much of its success to its rich environment. Big red balls became a very recognisable feature, instantly associated with the show. The children's programme Splatalot built a full-scale mediaeval set, decorating it with a coherent theme. The Almost Impossible Gameshow (sic) has spent no money on its set dressing, just enough crash pads and mud and water to make it safe for the players. Players coming to a grisly end is elsewhere on the ITV network: Release the Hounds.
Nor has the programme spent much money on its challenges. They feel like the sort of thing an ambitious village carnival might do. "Slide your way down the hill, a prize if you don't fall off the narrow path we've laid!" There are no characters for the viewer to relate to, just anonymous monitors blowing a whistle. We may have to withdraw our critique of Uriah Rennie on Freeze Out: the "Ice Judge"'s studied lack-of-character was, itself, a character.
The other reason Total Wipeout was a success – its commentary. Richard Hammond struck a note, somewhere near "I can't believe these people are doing this, but let's enjoy it because they'll wise up any moment." Co-host Amanda Byram gave interviews so vacuous that we expected her to be snapped up by KYTV's spoof news channel. Over on CBBC, Splatalot featured the surreal antics of Dick and Dom, building a fantasy world of their own miles away from anything we saw on screen.
Here? The Rubberbandits do the commentary. Who? A couple of Irish guys. Think of The Leprechauns from Live and Kicking, only somewhat cruder. Cruder? Yes, this show begins at 9pm, and goes out after the watershed. Strong language is to be expected, they won't beep the f-word from contestants or commentators. "Mad bitch," they say.
This column aims to be liberal in its reviews. We watch shows that don't particularly appeal to us, because we might be surprised. We watch shows of little quality, and we try to explain why they're not a patch on other shows. We watch shows that aren't as good as they could be, and point out where they might improve. But there comes a point where we can take no more.
What comes across as blatant sexism from the commentators is the last straw.
We're not going to see how The Almost Impossible Gameshow (sic) ended, because we don't care.
Addendum, 2 November 2015: The Rubberbandits contacted us about this review. They corrected a misquote (we originally had a different word before "bitch"), and point out that "context and intent weren't derisive" - the term "mad bitch" is "a term of celebration in Ireland". The review has been amended to take account of these points.
News from MIPCOM
The annual holiday for over-worked television executives took place in Cannes this week. This column didn't want to miss the Hive Minds final, and is saving up for its own holiday, so this year we've watched the festival from the comfort of our sofa.
We're glad to have missed the heaviest rain seen on the Riviera since at least last year. Hundreds of executives had to spend even longer than they planned in restaurants and bars. What a shame. Trebles all round.
Our veteran readers might recall AOL. It's still going, apparently, and they gave an early speech. "For most of our audience, mobile isn't the second screen. It's the first screen." That's except in Russia, where CEE has launched a five-screen strategy. Five screens! That's like staring into the shop front at Radio Rentals.
AOL noted, "The media has been democratised, but traditional media hasn't really accepted that it's been democratised." We, the people formerly known as the audience, agree.
We heard about stories spanning multiple platforms, like the DLR at Canary Wharf. 56% of millennials reckon internet video creators are their friends, only 7% relate to film stars. Well, yes, Zoella is a bit more real than Elsa.
We got mixed messages about young viewers: "Millennials' viewing habits of linear TV is off the cliff. It's not catchup; they're not catching up with anything," said one contributor. "Children are watching linear television, with on-demand a spice," said another, completely contradicting the other speaker.
Audiences are frustrated: Every week, 85% of viewers can't find something to watch. People are able to watch the shows they want, and are able to gorge themselves on marathons of their favourite shows. Because, yes, the BBC makes it very easy for us to see every episode of Hive Minds, only keeping the last four online at any time.
Sophie Turner Laing of Shine noted, "By itself, social media doesn't get close to the bond between a programme and a viewer who's settled down on a sofa. 75% of viewers have talked on social media about television." Look at #onlyconnect and #universitychallenge on Monday evenings.
Turner Laing continued, "Variety is our major strength. Diversity is the root of our substance as a truly creative business." So how come there are so many similar formats around? We heard about three shows centring on people going up a mountain.
"Geek culture is taking over, people are so proud and engaged," said someone promoting a sci-fi show. There was a kerfuffle amongst our friends at Bother's Bar, when ITV confirmed it had bought UK rights for The Genius, a show from Korea they really like. Within minutes, the first three series had been cast, and discussion was whether Victoria Coren Mitchell or Tim Harford would win the superfinal, and whether each edition would be split into two parts.
The microblogging company Twitter sponsored a session about how microblogging worked with television. Masterchef Australia was praised for its "slick" liveblogging. One-third of conversation between programmes anticipates the next episode. Elsewhere, we heard that virtual reality isn't going to replace television, it's going to be its own thing. The BBC will make about 100 hours of television for the price of Netflix's House of Cards.
And the whirly wheel of Unlikely Formats. From last year, we recognise Master Athlete, now airing on ITV as Eternal Glory. The Algorithm flopped on Ireland's TV3, moving from winter primetime to summer pre-primetime to Sunday mornings.
As ever, a warning that we may have misunderstood some of the formats.
Channel 4's unscripted drama Hunted is being sold round the world. Cash Cab is turning up in the Philippines.
Competitive mountain climbing is a thing.
Monte Bianco: celebs and mountain climbers go up Mont Blanc.
Ultimate Expedition: celebs go up a different big mountain.
Blind to the Top: six people with no sight climb Mount Kilimanjaro, attached to professional guides.
Some talk about the economy.
A Real Swedish Farmer: Farmers with no heirs teach immigrants everything they know – so they can take over.
The Day The Cash Came: A family below the poverty line are gifted a year's salary in cash. How will they use it?
Bring Your Own Cash: Three thousand television executives descend on Cannes for an industry shindig. There is no ATM, and credit cards don't work. How will they get their round in?
Some are post-watershed.
Undressed: Two strangers meet for the first time in a darkened bedroom for 30 minutes of what's euphemistically described as "physical / emotional interaction".
Kiss Bang Love: One singleton kisses 15 strangers blindfold. Then second-kisses five. Then spends the night with two. They may take their blindfold off at some point.
Desperate Last Resort: Women with "personality issues" fight for a cash prize on a deserted island with sabotage missions. "De PMT Mole", suggested Brig Bother.
Friends For Fortune: Two teams compete in games including French-kissing strangers, passing egg yolks mouth-to-mouth. ITV2 is doubtless wondering how it can mess this up.
The Shower: Control the temperature of a shower via an app. That's it. Described by its French makers as "Un #RisingStar en version #WTF".
What else have we got?
The Eureka Moment: Two couples test their scientific knowledge, facing dangerous tasks. Good to see CBBC's Ultimate Brain repurposed for adults.
Modern Art vs Rough Amateur Art: Can contestants tell difference between a pro painting and one painted by an amateur? This asks very difficult questions of the art establishment, Brian Sewell would have been an expert panellist.
The Wacky Old Games: The craziest traditional games from countries around the world, in a studio. The spirit of The Indoor League lives!
Some quizzes.
Fast Cash: Contestants play against the audience in a game of associative questions. Some mention of cashpoints, too. Not sure what an "associative question" is, nor how many quizzes already have a "Fast cash" round. From those original scenesters at Keshet.
QuizUp: Based on the popular (sic) mobile trivia app, contestant in studio plays against eight people at home. ITV are doing a pilot of this.
Who's On Top?: Celebrities answer trivia questions, shooting up (and down) in lifts according to right/wrong answers. This would be better if they took a tip from Tom Scott's pilot at Sheffield.
Boom!: The drama, thrill and intensity of a blockbuster action film, with the high-octane fun of a video game. It's a literally explosive trivia challenge. Another one from Keshet.
Family viewing.
Lubdub: Kids' talent show, with success based on emotional response of judges and audience – measured by neuroscience. The clapometer is abolished: think applause, do applause.
Dance Dance Dance: Celebs train to perform famous dances from music videos and films. Let's Dance for Comic Relief would like a word.
MIPCOM was won by @Brod, who inspired this fake format.
Don't Wake The Audience: There is a man sat next to me in this keynote snoring loudly. Everyone around him is in fits of giggles. Whoever wakes him loses.
This Week and Next
The Daily Tabloid had a front page "exclusive" about a "betting ring" around The Great British Bake Off. The only scandal here is that bookmakers are blithering idiots, and expect to be treated as something other than blithering idiots.
For the benefit of bookmakers, some facts everyone else knows. Bake Off is taped. It doesn't go out live. That's how they can make cakes over four hours, and squeeze the programme into one hour. Because it's taped, it's filmed in advance. Even before transmission, people know who won. People knew four months ago that Nadiya Hussein won. Bookmakers are foolish enough to try and make money on a foregone conclusion. We have no problem with people calling out the bookmakers' imbicility and profiting from it.
Of course, this fits with the house style of The Daily Tabloid (prop: R. Murdoch). Always say bad things about the BBC, because the proprietor wants to destroy it. The collateral damage includes Love Productions (70% owned by KYTV, prop: R. Murdoch).
Also fitting with newspapers' house styles: complaints that the best baker wasn't white. This column chooses not to engage with racists.
Quiz update
Queen Mary London and Nuffield Oxford went at it in University Challenge. A couple of obscure institutions: QML started awarding its own degrees a couple of years back, after breaking from University of London. Nuffield makes its debut in the Paxman era. It's a postgraduate institution at Oxford University, best known for the work of psephologist Sir David Butler. QML lost to an Oxford college on their last appearance in 2013.
Queen Mary were Kate Lynes, Stephanie Howard-Smith, Verity Williams, Yolanda Loveday. Nuffield Oxford sent Spencer Smith, Alexander Sayer Gard-Murray, Mathias Ormestad Frendem, Daniel Kaliski.
Yep, QML have an all-female team. All-women teams on UC are rarer than rocking-horse droppings. North London in 94, Open in 95, Harris Manchester in 98, Hilda Oxford in 2005, Newnham Cambridge in 97, 98, 99, 01, 10, 11, Lucy Cavendish Camridge in 08, and Murray Edwards Cambridge in 09. Only the first three represented institutions that also admitted blokes.
Queen Mary took the early lead, but the sides were never split by much, and Nuffield drew level just after the second picture set. The Oxford side had the advantage in the final minutes, and won by 165-130.
Yorkers beat Cluesmiths by 31-24 on Only Connect. It wasn't a runaway win until the final minute; the opening round finished 4-4, and some good work by both sides in Sequences made it 13-7 into the walls. But the Cluesmiths couldn't find "Bath" things, so had their lead trimmed to 20-17. It was the Missing Vowels that did it, particularly Pixar films and celebrity authors of children's books.
The connection on Countdown numbers selections was good to see. We also liked the picture round identifying the components of a witch's spell.
Mastermind was a win for experience over youth. Jim Maginnis won the heat, he scored a perfect round on Arthur "Bomber" Harris, and had enough headroom to answer-or-pass en route to 26. Nick Downes set him the target, John Ross and Frances Chant represented the young generation and were some distance back.
BARB ratings in the week to 27 September.
A poor week for The Great British Bake Off, it loses a million viewers and sags to 11.1m.
Strictly Come Dancing began its performance shows with 9.3m viewers. X Factor took 6.35m viewers to boo camp. The consolidated viewing figure for Dr Who was 5.7m.
Lower down, University Challenge made 3.05m, Only Connect 2.4m. Bake Off An Extra Slice moved to 10pm to make way for Strictly, and fell to 2.05m, level with Mastermind. Celebrity Big Brother finished with 1.95m.
Celebrity Juice on ITV2 had 1.11m viewers. Come Dine with Me on Channel 4 had 700,000. Then 660,000 for Xtra Factor, and 390,000 for Bit on the Side on 5*.
Back! The Edge (BBC1 weekdays), where Gabby Logan is in charge of the bowls. The Great British Bake Off Masterclass returns (BBC2, Mon, Fri), and so does competitive farming programme Fferm Ffactor (S4C, Wed). But we're also subjected to more from The Apprentice (BBC1, Wed, Thu). Celebrity historians on next Saturday's Pointless (BBC1, Sat).
Photo credits: Saltbeef / Green Inc, Initial (an Endemol company), Love Productions.
To have Weaver's Week emailed to you on publication day, receive our exclusive TV roundup of the game shows in the week ahead, and chat to other ukgameshows.com readers, sign up to our Yahoo! Group.