Y Ras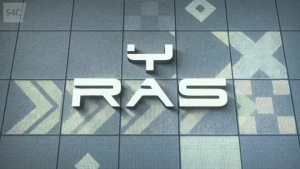 Host
Gareth Roberts
Broadcast
Hoi Polloi Pictures for S4C, 14 September 2018 to 23 January 2019 (10 episodes in 2 series)
Synopsis
A sports quiz, searching for Wales' most knowledgable sports fan. Four competitors, and five rounds, comprise this half-hour show.
The Race, 90 seconds of questions on the buzzers. A correct answer earns one point and advances you down the track. Bonus points are on offer - 1 point for 6 correct answers, 3 points for 7 right, and 5 points for 8 correct.
The Specialist, 90 seconds for each player on a subject they've nominated, one point for a right answer. There are 16 questions on a grid, and there are 5 bonus points for linking four in a line.
The Game, a categories board. This round starts with a control question on the buzzer, no points for this. Whoever gets control picks from 16 categories, and has first dibs on that question for 2 points. As in The Specialist, four in a row earns 5 bonus points.
The Connection, picture clues inspire a question. Correct answer earns 2 points and a chance to guess what links the pictures for bonus marks (4 down to 1 as more clues are shown).
The Race Redux, similar to the first round. Two points for a correct answer, and it advances you down the track. Errors cost one point and pull you a square back on the track. Bonus points are awarded at the end of 90 seconds.
As a quiz, Y Ras is fast-paced, and tries to cram in a lot into each episode. Perhaps it tries to cram in a bit too much, and the format seems to favour players with strong specialist subjects.
The show enjoys a strong visual identity, with consistent graphics and a specially-designed typeface. There is rousing music, and the show takes its sport seriously.
Champions
| | |
| --- | --- |
| 2018 | Ifan Gwilym |
| 2019 (Celebrity) | Owain Tudur Jones |
Inventor
Devised by Ultimate Sports Fan Ltd
Theme music
Andrew Griffiths, credited as "Cyfansoddwr" (composer).
Web links
See also
Feedback