Bobby Davro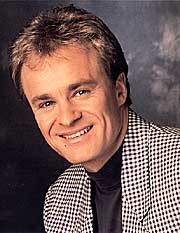 Biography
After making his television debut in 1981, Bobby Davro got his first big break appearing on Live at Her Majesty's in 1983. He then presented Bobby Davro on the Box, a show that remained near the top of the ratings for six years.
After his brief sojourn presenting game shows (Winner Takes All, Public Enemy Number One), Davro worked as an after-dinner speaker, at summer shows, and as a comedian (amongst other things). Beyond showbiz, he's also been very successful as a property developer.
Appeared in an amusing interlude in Cheap Cheap Cheap where he performed impressions of various celebrities over the tannoy before performing one of John Inman, who had died in 2007, and promptly being turfed out by Noel Edmonds. But hardly anyone watched that.
Trivia
His real name is Robert Nankeville; his stage name comes from the name of his father's discount stores, being a portmanteau of his sons' names David and Robert.
He made a special appearance in Rainbow in 1987.
Web links
Feedback