Bump 'N' Grind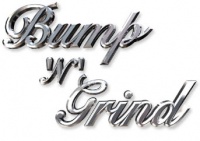 Host
Harvey (So Solid Crew) and Johny Pitts
Co-hosts
Judges: Kevin Adams (from Fame Academy); Lisa Scott-Lee, Louie Spence
Broadcast
Princess for Trouble, 2004-5
Synopsis
So I wuz chewing off my ass with me homies and dey were sayin' that we ain't listin' some big-ass show on Trouble and I was like "Hey, u bitchin'?" and they were like "No way, man". But get dis, this show was bustin' all over Trouble in 2004 and we ain't got it on da Three W's and I was like "WTF?"
And I was, like, eyeing all this big movez bustin' all over the screen as these geezas were giving it big style in some kinda knock-out competition to find whoz Da Bomb at being street, fly boys - u get me?
So I sed I'd give it big style write-up on da Web for all the laydeez who fink this show is right pimpin'. It kinda like dat Dance Academy with da geez from Fame Academy and the Commandant from Police Academy - nah, just yankin' ya!
It well street. Bo!
Trivia
Johny Pitts was actually credited as "Johny P", which is more street. Rad!
Feedback