Charles Foster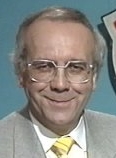 Biography
Wirral-born actor Charles Foster is best known in the North West as a continuity announcer for Granada Television, joining the company in the mid-1970s before retiring in the early 90s. In that time, Charles's voice has graced many a game show. Connections was an ideal vehicle for Granada TV's continuity team as it also showcased fellow announcer Sue Robbie as host. Sue and Charles were also the narrators of Granada Television's numerous schools programmes in the 80s.
Charles is still working today. He was the chief regular actor and narrator in Channel 4's short-lived daytime drama series The Courtroom and went on to provide the voiceover for Judge Rinder. He could also be heard in local adverts on Channel M, a local TV channel for Greater Manchester that was available nationwide on Sky. He is married to Emmerdale actress Meg Johnson, who plays Pearl Ladderbanks in the ITV1 soap.
Trivia
As in the case of Sue Robbie and all other Granada announcers at the time, Charles was also a presenter of Granada Reports, reading regional news bulletins throughout the day.
Feedback