Chasing Time
Host
Broadcast
Brian Waddell Productions for National Geographic, 2 October 2002 to 2004
Synopsis
Two randomly selected contestants are plonked in a foreign city and are challenged to race against time to win the ultimate luxury holiday.
Each episode whisks the players off to one of the world's major travel destinations. Armed only with a mobile phone, a map, a phrase book, a camera and plenty of kahunas [cojones, surely? - Ed.], they must complete a series of adventurous challenges tied to finding key landmarks, sites and events.
If they succeed, they win an all-expenses-paid luxury stay in that city. If they fail, they get two tickets on the next flight home.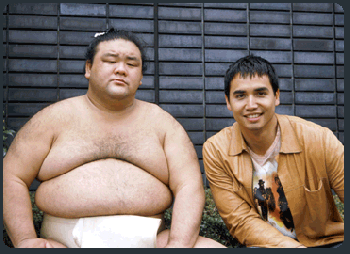 Sumo wrestler with Trey Farley - he's the one on the right (and no, we don't get tired of that joke)
Feedback