Ctrl Freaks

Host
Jacob Edwards, Bec Hill and Dave Gibson
Broadcast
Nerd in association with Holler for London Live, 4 June to 26 September 2014 (6 episodes in 1 series)
Synopsis
Two young Londoners have given their social media passwords to three comedians. A friend of the contestant has also given some background information. Over the course of a week, the comedians will build up to a spectacular stunt. They drip-feed information to the contestant by status updates, such as "I'm getting my hair cut at Rodney's this evening at 7."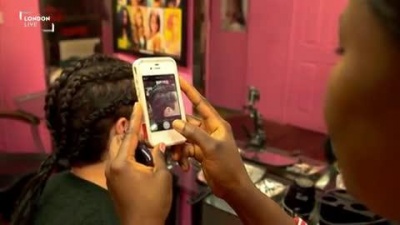 Pics or it didn't happen.
The comedians - the "control freaks" of the title - aim to push the player outside of their comfort zone, and get them to do things that are silly / embarrassing / mildly dangerous. Whichever player performs better, in their sole opinion, is rewarded with a weekend break somewhere in Europe.
We found the programme to be very variable in quality: some of the challenges were entertaining in their own right, others were hide-behind-the-sofa cringeworthy. We were less impressed with the didactic commentary, too often we heard heckling of the players for trying something different.
Inventor
Format devised by NERD & Holler
Trivia
The show's working title was "The Anti-Social Network".
Web links
Pictures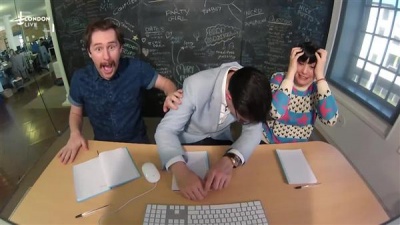 The Ctrl Freaks can't believe what they're seeing.
See also
Scene Stealers, a BBC interpretation of the theme.
Feedback