Declan Donnelly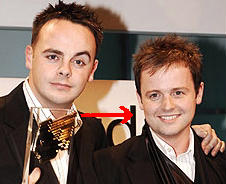 Biography
(Pictured above right) Geordie funster and screen partner of Ant McPartlin. He rose to fame playing Duncan in Byker Grove, in which one of his fellow cast members was Donna Air. With Ant, he embarked on a remarkably successful pop career, before moving into light entertainment, fronting the ITV saturday morning shows SM:TV Live and CD:UK alongside Ant and Cat Deeley. Now seemingly part of the media establishment, he won a Lifetime Achievement Award at the 2002 National Television Awards, aged just 27. In 2007, he and Ant signed a "golden handcuffs" deal with ITV worth 30 million pounds (i.e. 15 million each) over three years.
Trivia
Because people keep mixing him up with Ant, he always stands on camera right.
He (and Ant) were the most watched hosts of 2007. 51% of the public had seen them at some point during the year.
In 2002, the duo starred in a one-off revival of a single episode of the classic BBC series "Whatever Happened To The Likely Lads?" in which the two main characters, Bob (Dec) and Terry (Ant) were trying desperately to avoid finding out the result of a football match before its screening in the evening in order to win a bet. Although it wasn't a patch on the original episode and Ant and Dec seemed frankly too young for the parts, it was nonetheless an enjoyable and well-acted revival. It even featured a cameo appearance by Rodney Bewes, the actor who had originally played Bob, as a one-legged newspaper vendor - and also by Des Lynam, as himself.
Contact
c/o James Grant Management, Syon Lodge, 201 London Road, Isleworth TW7 5BH
Web links
Feedback