Game on Grandparents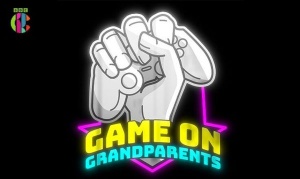 Host
Julia Hardy
Co-hosts
Commentator: Miles Ross
Broadcast
Electric Robin for CBBC, 15 to 26 August 2022 (10 episodes in 1 series)
Synopsis
"Do you like gaming?"
"Do you like your grandparents?"
BBC's press office summed up the show:
Julia Hardy presents a gaming competition series like no other. With lots of laughs along the way, young gamers and their grandparents step in to each other's lives like never before.
Girls and boys who dream of playing at an eSports tournament are about to get the chance, but there is a twist - they won't be playing themselves but instead have to train their gran or grandad!
While their grandparents are busy practising, the children have to take on their roles about the house, from washing up or walking the dog, to entertaining grandma's friends for the afternoon – what could possibly go wrong?!
Over the episode, we follow two teams of youngster and grandparent. We share the shock of the new game, and early training. Practice makes perfect, and the grandparents have to give up some of their usual chores - they fall to the grandkids.
The teams receive encouragement from celebrities like Dan TDM. And they go out on a practice run - a skiing game goes to a dry ski slope, a dancing game to a dance studio.
Soon enough, practice time is over, and both pairs go to the Game On, Grandparents! arena. There's walk-on music, gold capes, a massive audience of CBBC viewers. And just the one race, winner takes all, loser goes home with "we had a brilliant time together".
The winners of each heat return for the final, which is all gaming and less of the backstory.
Game On, Grandparents! leans into its video game roots. The show looks like a video game, with fast cut scenes, plenty of emoji flying around, and music playing throughout – original music is from Paul Farrer, a perpetual sign of quality. Julia gives a witty and wry commentary to camera, links the clips with style and makes sure the story's told.
On the surface, Game On, Grandparents! is a competition about video games. Beneath the surface, there's are lot going on. The show celebrates family ties, gives an excuse for grandparents and grandchildren to spend time together. They share knowledge between generations - how to game goes one way, how to make a cake goes the other. The show emphasises good sporting behavious, how to lose with grace and humility.
Above all, it's great fun to watch. The competitors' energy and enthusiasm shines through, and leaves us warmly smiling afterwards.
Inventor
Amanda Wilson and Elliot Johnson
Theme music
Paul Farrer
Champions
Oscar and John
Trivia
Julia Hardy, who uses she/they pronouns, is believed to be the first out in-vision non-binary game show host.
Web links
See also
Weaver's Week review
Feedback