Gassed Up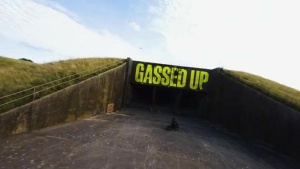 Host
Mist
Co-hosts
Becky Evans and Ryan Taylor
Broadcast
BBC Studios Digital Originals for BBC Three, 16 February to 23 June 2022 (6 episodes in 1 series)
Synopsis
Gassed Up features rapper Mist and his crew of two – Becky Evans (speed demon) and Ryan Taylor (BMX racer). They ask famous celebrities to take on challenges, all of them involve speed and technology. Motorbikes, four-by-fours, drone racing, electric vehicles, all appear on the series.
Each edition is structured as a challenge. First half of the programme is preparation: find out about the challenge, train and learn new skills. The second half is the challenge proper, race on the course, or dodge the drones. A winner is declared, the celebrity has either won or not.
Gassed Up is shot in a raw style, we get close to the action, it's all in-your-face. While the build-up can feel endless, the actual challenge is gripping to watch. Everything's cut in a fast and exciting style, with pacy music to pump up the volume. It's a high-adrenaline show, carefully plotted to build to a great crescendo.
Web links
See also
Feedback