Hannah-Oke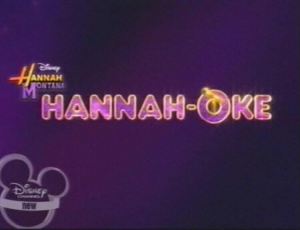 Synopsis
Family karaoke contest based around the American show Hannah Montana, about which we know nothing except that it apparently stars Smiley Miley off the Radio 1 roadshows. And we're not even entirely sure about that.
The heats broke down into three parts. They began with the everybody sing a line round, in which all five members of both families (and the hosts) sung one line of a song. The judges picked out their favourite singer from each side, and sent them offstage for some singing lessons. Everyone else took part in some called-out dance move nonsense, before the chosen two came back and performed solos from another song. The audience voted for their favourite, who was declared the winner.
The grand final included some original choreography by the competing families, and they picked their own soloist.
The programme was entirely fluffy and non-threatening light entertainment, promoting Disney's products, creating a family for tunes, and reminding us all just how good Konnie Huq's singing voice is.
Champions
The Williams Family, who won a trip to Disney's theme park in Paris.
See also
Feedback