High Stakes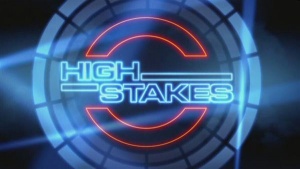 Host
Jeremy Kyle
Co-hosts
Voiceovers: Elizabeth Conboy and Marc Silk
Broadcast
ITV Studios in association with Escalate Television for ITV1, 11 October to 13 December 2011 (8 episodes in 1 series)
Synopsis
Daytime talk show ranter/shouter Jeremy Kyle helps contestants to win a potential jackpot of £500,000 by avoiding the right answers...alright. We're cool with that. At least there won't be any family feuds on the show...will there?
If you can help us to expand this entry, please provide as much information as possible, using the feedback form below.
Catchphrases
"Committed to (whatever number)"
Inventor
Format devised by Escalate Television.
Theme music
MCASSO
Trivia
Originally commissioned as a lead-in to The X Factor, High Stakes was found less than suitable for this high-profile slot. It was shown at 8pm on Tuesday evenings, a part of the schedule where ITV had trouble beating the test card. Viewers in Northern Ireland saw High Stakes after 11pm, the tourist programme Lesser Spotted Ulster went out in prime-time instead.
Web links
See also
Videos

The very first episode.
Feedback