Inspiration!
Host
Co-hosts
Team captains (1997 onwards): Lewis Wolpert and Adam Hart-Davis
Broadcast
BBC Radio 4, 27 September 1993 to 14 January 2004
Synopsis
Quiz about science and inventions.
The information we have for this programme is uncertain or incomplete. If you have any other information to add to this entry, please send it to us using the Feedback form below. Thank you!
Inventor
Crispin Belcher
Pictures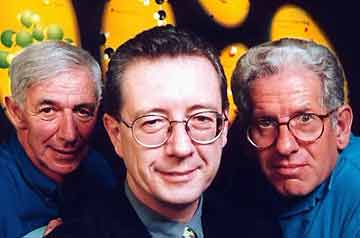 The captains flanking presenter Chris Stuart
Feedback