Jade's PA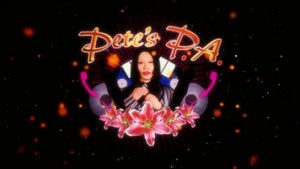 Host
Jade Goody (2006)
Pete Burns (2007)
Co-hosts
Voiceover: Daniel Abineri
Advisors:
Heather Howard (celebrity PA)
Dr Rob Yeung (recruitment psychologist)
Broadcast
Ruggie Media for LivingTV, 2006-7
Synopsis
Britain's "favourite" reality star Jade Goody embarks on a quest to find her very own personal assistant to organise her life.
Rather than put a small ad in Loot or the Times Creme like most normal people, instead she spins out another 8-parter for Living thus obtaining a new PA and a handy new TV contract to pay for her. Quids in!
Once her judges have sorted the star pupils from the dunces who apply, the ten best candidates enter Jade's recruitment academy, living together in a flash (it says here) Finchley pad and competing in a series of tests and challenges set by the judges and guest panellists. Each week, one finalist will be sent packing while the ante is upped for those remaining.
A second series of this programme was commissioned in 2007; with Jade Goody happy with her new personal assistant, the programme starred Pete Burns, and was re-named Pete's PA. The show's imagination clearly knew no beginning.
Champions
Jade's PA: Rebecca McCormick
Pete's PA: Nicky (surname not known)
Trivia
Following her death on 22 March 2009, Sky Living reran the series. No such luxury was afforded to Pete Burns when he died on 23 October 2016.
Feedback