Jake Humphrey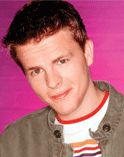 Biography
A former CBBC presenter who, um, presented stuff on CBBC. Besides the credits you see in that nice box to the right, he also did the odd spot on Top Of The Pops Saturday, Bring It On and lots of links for CBBC on both the digital channel and proper telly. Now presenting sports programmes, he was the anchorman for the BBC's coverage of Formula One from 2009 to 2012, before jumping to the nascent BT sports channel.
Trivia
He used to be a snowboarder for Great Britain.
On an episode of Never Mind the Buzzcocks (the one with Iggy Azalea), he divulged that his first choice career was policeman, until he was diagnosed with colour blindness and presented with a list of jobs colour blindness prohibited him from doing. The top of that list? Policeman.
Contact
c/o Blackburn Sachs Associates, 2-4 Noel Street, London W1F 8GB
Web links
Artist page at Blackburn Sachs Associates
Feedback