Last Chance Lottery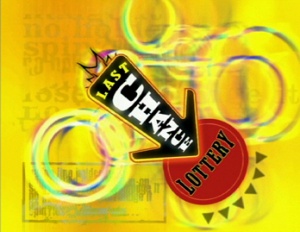 Host
Co-hosts
Voiceover: Peter Dickson, Tommy Vance(?)
Broadcast
Green Inc. for Channel 4, 25 January to 29 March 1997 (10 episodes)
Synopsis
Probably a cynical ploy by Channel 4 to cash in on the success of Don't Forget Your Toothbrush, Last Chance Lottery was nevertheless an entertaining Saturday night live 'n' loud show hosted by Irish funnyman Patrick Kielty.
Its basic premise was to give losers the chance to right their wrongs for fame and fortune. Not only would they play silly games for themselves but they would also earn money for a prize pot which could be won at the end of show by an unsuspecting audience member.
Each show also had a singer who would sing a song chosen by the big wheel, also to add money to the pot. In a nod to post-modernity, some games gave people who lost on other game shows the chance to play again against the original host for the same prizes. If they won they would take some of that host's fee and put it in the pot! This included Ed Stewart (Crackerjack) playing Double or Drop and Norman Vaughan doing The Golden Shot.
Each audience member was given a £1 National Lottery ticket, and (it being a live show) winners for the final were deemed to be those holding tickets that had really won at least £10 (3 or more balls matching out of six) in that evening's real National Lottery Draw which had taken place just before transmission of the programme. Winners were given the option of tearing up their winning ticket for a chance to go into the final for something potentially bigger (which almost everyone opted to do).
The final consisted of a very basic themed quiz played, where one person would go through to the end game - the Last Chance Lottery. Here, they could decide which of six celebrities had been considered 'Winners' or 'Losers' in life by an audience vote before the show. Each ball represented a prize - five would which were terrible (e.g. a year's supply of cheese), and one of which was a star holiday.
Regardless of whatever the contestant had won up to that point, they could go for broke by gambling their prizes so far on the important bonus ball. A correct outcome meant the contestant won all the prizes AND the cash pot (usually a few thousand quid). Failure meant it was an early bath and the cash pot would roll on to the next week.
Despite being seen as a DFYT rip-off, it regularly had its moments of genius in its games, which is commendable.
Key moments
Famous for "Gorgeous the Dog", a racing greyhound who had never won a race before in her life who, when having £1000 of the prize jackpot placed on her to win a race, actually won!
Alvin Stardust murdering the Pulp hit Common People. He will never be forgiven.
It had its fair share of controversy when it had a pig racing item, where pigs would race and, depending on which ones came first, money would be added to the pot. They had complaints about this, so the next week they used penguins!
Trivia
Once gave away the largest television cash prize for that week which was £15,000.
The song wheel was fixed by a bloke called "Willy the Wheel". He stood inside it and stopped it - nice to see a show that was honest about this for once!
The linking song sang by the evangelistic choir between sections was Happiness, originally a hit for Liverpool comedian Ken Dodd.
The pilot show was called Every Loser Wins, but sadly this wasn't the case with Last Chance Lottery which, despite achieving audiences of over 3 million, didn't get a second series. So it lost. And didn't win after all. It lied.
Feedback