Max Robertson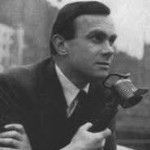 Biography
Joining the BBC in 1946, Max Robertson was best known as a sports commentator, particularly on tennis. He was also one of the first presenters of Panorama in 1953 and wrote several books including the definitive history of the Wimbledon championships.
He retired in 1986 and died in 2009, aged 94.
Trivia
He was for a time married to author Elizabeth Beresford, the creator of a rather different sort of Wimbledon icon, the Wombles.
Web links
Feedback