Pooch Perfect
Host
Sheridan Smith and Stanley
Co-hosts
Judges: Colin Taylor and Verity Hardcastle
Vet: Bolu Eso
Broadcast
Beyond Productions UK for BBC One, 7 January to 4 March 2021 (8 episodes in 1 series)
Synopsis
A BBC press release promised:
Professional dog stylists from around the country take part in a series of themed challenges to create epic transformations of beloved pets, as they compete to be crowned the Top Dog Stylist.
Each week, the teams will reveal their creations on The Dogwalk, where the judges will deliberate over the week's canine contenders, and their owners are given the chance to see their newly transformed dogs for the first time.
As well as amazing "transfurmations", the show will also be packed full of useful information for dog lovers and owners, delivering top tips on responsible ownership, fun facts about dog breeds and a guide to at-home pooch pampering techniques.
If you can help us to expand this entry, please provide as much information as possible, using the feedback form below.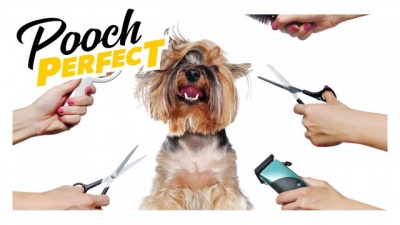 A clip for this dog model.
Champion
Kelly Davis
Inventor
Created by Nikki Pinkus, Damon Pattison, and Sonya Wilkes - all work in senior positions for Beyond's owner Seven Studios. A version of the show went out in Australia in 2019.
Web links
Feedback