Pop Upstairs Downstairs
Host
Mark Radcliffe and Lard (Marc Riley)
Co-host
Mr. Microphone: Marc Helsby
Broadcast
BBC Manchester for UK Play, 17 July 2000 to 2001
Synopsis
What we have here is essentially the University Challenge of Pop Music, and there are no attempts to hide it. Two teams of three, one 'posh' team who sit in the 'upstairs' bit of the set above the 'commoners' team who sit downstairs. The sets are decorated so the posh team sit in a dining room type area whilst the commoners sit in a shed sort of thing.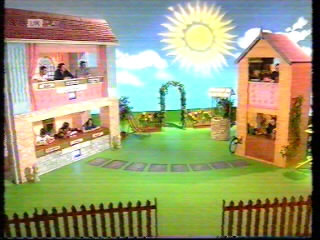 Turn the camera round and there's a hill with giant rabbits and dancing Teletubbies.
Across the other side of the studio are our hosts, the brilliant Mark and Lard. Mark sits upstairs and Lard downstairs and represent the teams, so Mark roots for the posh nobs whilst Lardy Boy eggs on the Common People.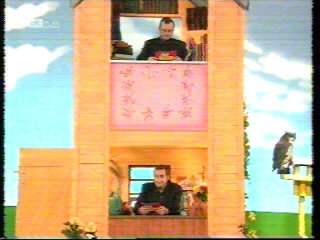 Mark up, Lard down
Mark always asks the Starter questions (for 20, and no conferring) which if correct offer three supplimentary questions for 10 each. A wrong answer to a starter incurs a ten point penalty and the question is thrown across.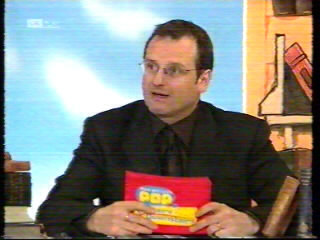 Mark. He's the posh one, apparently
If the posh team gets it right then Mark asks the supplimentaries (or suppositries as they are sometimes referred to) and if the commoners get it right then Lard asks the questions.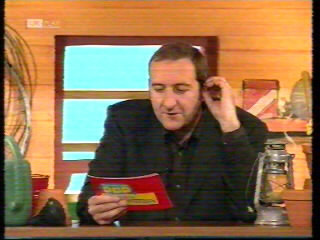 Lard. He's the common one, obviously.
Near the end of the show they stop with the Starters and Suppositries and go Quickfire, questions asked by them alternately on the buzzers for ten points each or five off if wrong.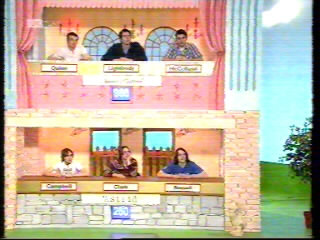 The teams
That's the game, what's more difficult to convey - and the reason why it's a lot more fun than Uni Challenge - is the humour that Mark and Lard inject into it. For example, names are often deliberately misread ('Broccoli Spears' for Britney Spears, 'Louse' for 'Louise' and stuff like that) and there is often banter between the two hosts, especially if one team is doing really badly ('Oi Lard, I think your team might as well go home', at which point Lard will leave his seat and threaten to break the set if he isn't given some points) or the pop trivia questions that lead into the break. "Before the break Lardy Boy asked if you could name all of Spandau Ballet's albums. What's the answer Lard?" "No." "Alright, thanks Lard..."
There are no prizes, but unlike Uni Challenge you do actually have a chance of getting some of the questions right. Good stuff.
Theme music
*Astrid, who once appeared on the programme as a celebrity team.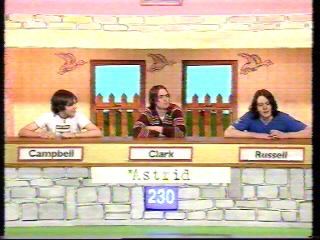 Britpop also-rans *Astrid
Feedback