Punchlines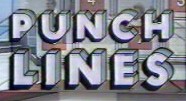 Host
Co-hosts
Voiceover: Robin Houston (1983-4)
Broadcast
LWT in association with Bob Stewart Productions and Philip Hindin for ITV, 3 January 1981 to 22 December 1984 (79 episodes in 5 series + 1 special)
Synopsis
We don't remember this very well but we'll give it a bash.
It was basically a Saturday night memory game with each celeb having their own punchline and our plucky contestants trying to remember which celebrity would give the right punchline to a joke read out by Mr Lennie "Jumper" Bennett.
Each correct match meant points, and the first of the two players to get 150 points went onto the final round.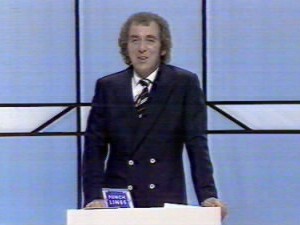 Lennie Bennett
So, if the contestant was asked "A fisherman said to the seven-foot man...", the contestant would try to remember which of the eight boxes on the set would contain the punchline "...with legs like yours, you don't need a rod" but inevitably instead they'd pick "...where do you keep your big tackle?" with hiiiilarious consequences.
Although the contestants were told all the punchlines before the game starts, to confuse you the celebs would all swap seats - with much larking around - before the first question was read out. Hence the catchphrase, "Remember what you heard... AND WHERE YOU HEARD IT!". And there would be a red herring thrown in to add to the fun as well.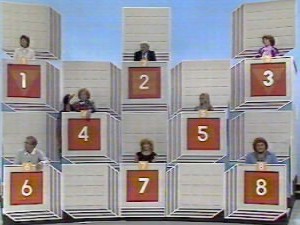 The famous Punchlines set
In the final round, the winning contestant had to match 7 out of 8 punchlines correctly to win the star prize (the 8th one being the red herring, natch). If they failed, the value of their consolation prize depended on how many correct answers they had given.
We don't remember Bernard Manning ever being on it, which probably explains why it was quite a successful show for its time. (To save your emails, it turns out that he did appear a few times, but we must have blotted that out of our memory. And can you blame us?)
Key moments
The episode on 9th May 1981 was an FA Cup Final special.
The near-obligatory 1980s Emu moment: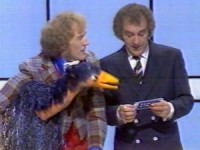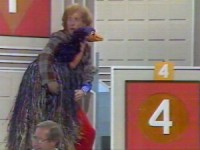 Rod Hull and Emu query the host's answer
The outtake when Julia Mackenzie said, on the fourth occasion to deliver her line: "You've woken up Dumpy and Gropey".
Catchphrases
"Remember what you heard, and where you heard it!"
Theme Music
Composed by Laurie Holloway.
Trivia
The consolation prize in the first two series was a Lennie Bennett doll (or effigy, your choice). In later series it was a case of champagne with glasses.
Web links
Pictures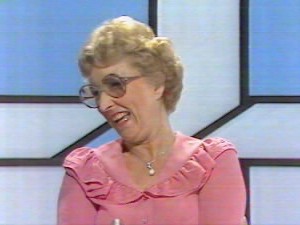 A
Punchlines
contestant.
Feedback